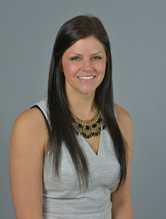 Jessica Helgeson Markey, MBA
Oral & Maxillofacial Surgery Program Coordinator
Jessica Helgeson is the Program Coordinator for the Oral and Maxillofacial Surgery Residency Program. She is a lifelong resident of New Orleans, attended Dominican High School, and received her Masters and Bachelor's Degrees at The University of New Orleans.  Jessica received a full athletic scholarship to play volleyball for The University of New Orleans where she excelled both athletically and academically.
Jessica coordinates all aspects of the LSU Oral and Maxillofacial Surgery Residency Program which includes Residency Training; Internship Training; and the Externship Program within the residency.  She serves as the liaison between the Department Chairman, the Residency Program Director, LSU Health Sciences Center Graduate Medical Education Office, the Accreditation Council for Graduate Medical Education, and the Residency Review Committees.
Jessica also serves as the coordinator for the recruitment of activities for the Oral and Maxillofacial Surgery Residency Program including but not limited to career counseling and advising the residents.  She also functions as the resource person to answer questions, solve problems, and recommend policy implementation and change in accordance with the national accreditation and governing board guidelines.
Jessica manages the recruitment and admissions activities for future residents and the appointments, terminations, and performance evaluations for current residents.  She manages the credentialing, malpractice coverage, recommendation, verifications of training, and coordination of Visa statuses.  She utilizes these records to prepare complex reports and surveys for the institutional administration or accrediting agencies regarding statistical information on education programs within the university.  Jessica prepares and delivers all accreditation in accordance with CODA's guidelines.  She manages the recruitment and admission activities of the LSU Oral and Maxillofacial Surgery Program which includes coordinating the production of recruitment materials; overseeing the interview process; maintaining the records of applicants; compiling the statistical data in the applications; and preparing reports on admission activities.
Jessica tracks the resident appointments, resident terminations; resident rotations; and funding source changes for the input into the Resident Tracking System database.  She also coordinates the resident's on-service and off-service rotations with sponsoring and affiliated hospitals and facilities based on their requirement s to complete their residency training.
Jessica is married to Bruce Markey and has two children Kinsley and Carmela.  In her free time, Jessica enjoys CrossFit, beach volleyball, and enjoying the wonderful city of New Orleans!
E-Mail: JHelge@lsuhsc.edu