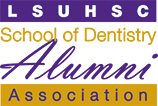 Get Involved!


Reunions
Get Involved!
If your graduation year ends in a "0" or "5" and you would like to help coordinate your class reunion, we would be honored to assist you.
The opportune time for your reunion celebration is in conjunction with the 2015 New Orleans Dental Conference (April 9-11).
Contact Katie Kelley at (504) 941-8129 for more information.
Class Ambassadors
The LSUSD Alumni Association Board of Directors is currently seeking individuals to serve as class ambassadors for their graduating class. Ambassadors assist board members in re-engaging alumni, encouraging their involvement and support.
Questions? Please contact Joanne Courville at the Office of Alumni Relations at 504-941-8120 or jcourv@lsuhsc.edu.