Student Clinics
In the LSUSD predoctoral student clinics, dental students provide the care under the supervision of LSUSD faculty. Dental care is not provided free of charge, but fees in student clinics are significantly reduced from the cost of private dental care.
To become a patient at the LSUSD student clinic, please call (504) 619-8770or (504) 619-8700 Monday through Friday (8:00 a.m. to 4:30 p.m.) to schedule a screening appointment. The dental school offers handicap accessibility and parking.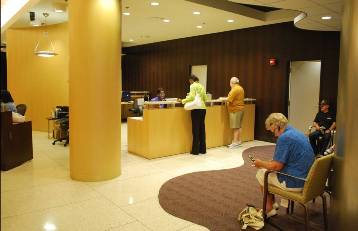 Patient check-in and screening area, first floor, Clinic Building
First Appointment
At your first appointment, you will view a brief presentation outlining the rules and regulations for new patients. Your first appointment then consists of an oral health assessment which includes an oral exam and possibly x-rays. An LSUSD faculty member will then review your patient record to determine if students are able to provide the oral health care required and/or if the treatment offers students the appropriate learning opportunities. Please remember that because the School of Dentistry's primary mission is education, you may not be an appropriate candidate for care at the dental school.
If you are accepted into the program, the fee for the initial appointment is $140.00, which will be applied to future visits. You can pay the fee by cash, personal check, VISA, Mastercard, or Discover. No dental treatment is provided during this examination.
The following information is required on the first appointment:
physician's name, phone number and address;
Social Security number;
list of any medications the patient is taking.
To speed up the intake process please print and fill out this Medical History form and bring with you to your 1st appointment.
New Patient Orientation video
Following Appointments
Patient assignments are based on dental students' educational requirements. Students are limited in the number of patients that they may treat; therefore, it is not always possible to advise patients how soon treatment will begin. After assignment, appointments are scheduled directly with the student dentist.
As faculty members supervise and evaluate the oral health care provided by the students, services will take longer than in a private dental office. However, while actual treatment time may take longer, fees are significantly less than those in private practice.
Appointments last three to four hours, and patients must be available for treatment at least twice a month.
If this schedule is difficult, patients should seek care from a community private dentist or with a faculty member through the LSUSD Faculty Practice. Patients who fail to keep or make regularly scheduled appointments will be discontinued from the program and their treatment will be terminated.
Some medical conditions may interfere with the provision of safe dental treatment and a physician consult may be required to ensure the patient's good health prior to dental treatment. If a patient has a medical condition that requires a consult from a physician, the patient is responsible for securing the completed form from the physician and returning it to the LSUSD Clinic. No dental treatment will be allowed until the completed consult form has been returned.
Payment Options
Dental care is not provided free of charge. However, as a teaching institution, LSUSD's fees are substantially reduced from that of private practice. This courtesy is extended to patients due to the increased time required for care. Patients are expected to pay for services at the time of the appointment. Any treatment that involves laboratory costs must be paid in advance of the procedure. Cash, personal checks, VISA, Mastercard, and Discover are accepted.
Patients may also apply for credit through Smart Care provided by Campus Federal Credit Union. For more information about Smart Care, please go to https://www.campusfederal.org/personal/smart-care.aspx.
Smart Care brochure
Treatment plans and associated costs are subject to change.
Private dental insurance is not accepted in lieu of payment; however, the students can assist in completing claim forms for the reimbursement of out-of-pocket expenses. For questions regarding private insurance please call (504) 941-8116. Medicaid, which covers most dental care for children under 21 and dentures for adults, is accepted and the patient will incur no out-of-pocket expenses if the care is pre-authorized.
This service is only available for LSUHSC School of Dentistry patients of record. The Dental School does not have a walk-in emergency clinic and does not treat individuals who are not LSUSD patients of record.
All patients of record who have dental emergencies are treated at the dental school during normal business hours. Patients of record who have an emergency outside of business hours should contact their student dentist. If that is not possible, the patient should call the after-hours answering service at 456-5322.