C. Edmund Kells Honor Society
Photo Archive
New 2010 Kells Society members in Class of 2012: From left, Joshua Brandner, Ashley Altazin, Nicole Thieler, Alexis Nacchio, Mohammed Ismail, Cole Johnson. Not in the photo is Thu Nga Nguyen.
Officers, 2010-11:
Scott Hannaman, president
Erin Maturin, vice-president
Ruby Nhan, secretary-treasurer
Faculty Moderator: Dr. Paul Armbruster, Department of Orthodontics
Honorary Faculty Member, 2010: Dr. Philip Carruth, Department of Prosthodontics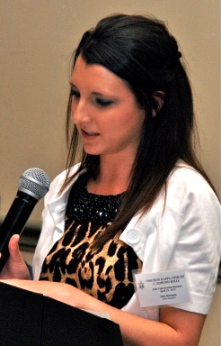 Vice-president Erin Maturin introduces 2010 members of the Kells Society at the OKU-Kells Banquet.