Program in Dental Hygiene
General Information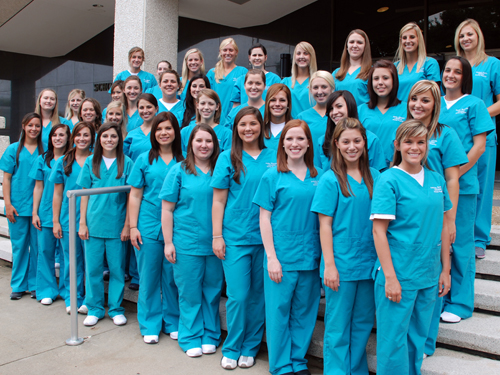 New dental hygiene students from New Orleans and Lafayette come together during first-year orientation.
Thinking About a Career in Dental Hygiene?
Are you interested in helping people remain healthy?
Would you enjoy direct patient care?
Would you like the security of a specialized career?
Would you like flexible working hours?
Would you like the potential to earn a good salary?
Would you like the opportunity to practice nationwide and abroad?
Are you interested in an academic career in the health sciences?
Are you interested in public health?
Dental Hygiene may be the career for you.
The LSUHSC School of Dentistry (LSUSD) offers a bachelor of science at two campuses. The main campus for the dental school is in New Orleans; all didactic and clinical course work for the dental hygiene program occurs on this campus. The second campus, established in 1999 as an extension of the LSUSD curriculum, is in Lafayette, Louisiana. LSUSD uses distance learning technology to transmit all of the lecture courses to the Lafayette campus. All didactic and clinical course work occurs at the Lafayette Community Health Care Center.
Specific Goals of the Program in Dental Hygiene
1. Maintain admissions policies to ensure qualified candidates.
2. Utilize current educational methodologies and information to ensure an educationally sound curriculum.
3. Review the curriculum to ensure it is relevant and current.
4. Prepare the students to be competent as defined by the program document, "Competencies for the LSUSD Dental Hygiene Graduate."
5. Educate students to successfully complete the National Board examination.
6. Educate students to successfully complete State Board examinations.
7. Design experiences for students to provide dental hygiene services to diverse populations within the community.
8. Support an environment conducive to faculty development.
The dental hygiene program is an integral part of the dental school since the dental hygiene faculty educates both dental hygiene students and dental students to provide dental hygiene care as part of comprehensive dental treatment. Dental hygiene and dental students take pain control classes together, collaborate with each other on the needs of their shared patients, and learn to respect the contributions both professions make to the team concept of dental treatment.
The dental hygiene program is integrated into all aspects of the dental school. Access to state-of-the-art educational technology, involvement with outcomes assessment, concurrent involvement of dental hygiene students with dental students in extramural rotations, and the inclusion of faculty in all faculty development activities and committees are just a few examples of an institution that strives to meet the needs of both the dental and dental hygiene curricula.
How do I get into Dental Hygiene School?
College Requirements
You must complete a minimum of 61 hours of college work to be considered for admissions. You must have successfully completed:
| | | |
| --- | --- | --- |
| Academic Electives -3 hours | Fine Arts -3 hours | Psychology -3 hours |
| Biology -13 hours | Gen. Chem. -6 hours | Sociology -3 hours |
| Computer Literacy -3 hours | Humanities -9 hours | Speech -3 hours |
| English -9 hours | Math -6 hours | |
Students may apply for the Dental Hygiene program before completing all classes. However, all required courses must be completed by May for the Dental Hygiene class starting in August.
American College Test
The ACT is administered at various sites throughout the year. A composite score of 20 on the ACT is considered to be a competitive score. You should plan to have completed this test and the score received from ACT by the Office of Admissions by March 15th of the year of admission.
Admission to the Program in Dental Hygiene, LSUHSC School of Dentistry
Admission to the program in Dental Hygiene is competitive. The program accepts applications from Louisiana residents after October 1st of the year prior to admission. Final firm deadline for applications is March 15th of the year of admission. Interviews are conducted during March and April and the class is selected during May.
Want More Information?
Contact: Ms. Carrie Mason, RDH, MEd, Director of Dental Hygiene
Local: (504) 941-8153
Fax: (504) 941-8154
Web: http://www.lsusd.lsuhsc.edu
email: ds-hygadmissions@lsuhsc.edu