LSU School of Dentistry Internationally Educated Dentist Program
The LSU School of Dentistry (LSUSD) Internationally Educated Dentists Program (IEDP), for dentists holding a dental degree from countries outside the United States, employs a mandatory 2 1/3 year curriculum. Qualified students are enrolled in the Pre-doctoral Dental Program (DDS) as third-year dental students following successful completion of the IEDP Advanced Placement Skills and Knowledge Assessment curriculum. Once enrolled in the DDS program, each IEDP student must satisfactorily complete the third- and fourth-year dental curriculum as prescribed. No waiver of classes is granted. LSUSD expects all applicants and students of the Program in Dentistry to meet all Technical Standards for the Profession as stated in the LSU Health New Orleans Catalog.
LSU School of Dentistry participates in the ADEA Centralized Application for Advanced Placement for International Dentists (CAAPID) program.
Information for 2022 Program year
| | |
| --- | --- |
| Length of the Program: | 28 months |
| Application Opens: | May 16, 2022 |
| Application Deadline: | July 1, 2022 |
| Interview Dates: | July & September 2022 |
| IEDP Advanced Placement Skills and Knowledge Assessment Curriculum: | March 6 – June 16, 2023 |
| Program Start Date: | July 5, 2023 |
| Class Size: | 5 |
| Degree Awarded: | DDS |
Academic Requirements
The completion of a dental degree from an international school of dentistry is required. Academic credentials will be evaluated by the LSU Health School of Dentistry IEDP Program Director under the Office of Admissions to ensure that the applicant's undergraduate curriculum prerequisites include the equivalent requirements of biology with laboratory, inorganic (general) chemistry, organic chemistry, biochemistry, microbiology, English, and physics.
While a minimum of a 3.0 GPA is recommended, more competitive GPAs will be given first consideration.
Admission Requirements
Applicants MUST include their full legal name as specified in their passport, address, telephone number and email address with every mailing sent to CAAPID, the Centralized Application for Advanced Placement for International Dentists, or the LSU School of Dentistry Internationally Educated Dentists Program.
CAAPID Application
ADEA CAAPID: https://caapid.liaisoncas.com/applicant-ux/#/login
The following materials must be submitted as part of the CAAPID application:
A current curriculum vitae (CV). Applicants should include information about education, professional (employment/organizations), research (publications), honors and awards, and community service.


Personal Statement. The personal statement should include information about dental education experiences, dental related activities and professional goals.


Transcripts and Evaluations. Submit an official, detailed, course-by-course evaluation of your dental school transcript and any other post-dental degrees obtained outside the U.S as well as a copy of your diploma and dental license, if applicable. All transcripts, diplomas, and dental licenses obtained outside of the U.S must be translated and certified by ECE. Submit an official copy of a transcript for any degree earned in the US. ECE evaluation must be uploaded to CAAPID.


English Language Proficiency Test. ***COVID-19 Exception- Home TOEFL will be accepted!*** Successful completion of the TOEFL internet-based exam with a score of 100 or above is required. TOEFL may be waived if candidate has a degree from a U.S. accredited college or university (High school not considered). Score received at time of application must be less than 2 years old. Original TOEFL scores must be submitted from TOEFL directly to ADEA CAAPID.

TOEFL: https://www.ets.org/toefl

TOEFL home edition: https://www.ets.org/s/cv/toefl/at-home/



National Board Dental Examination Requirements. Program requires applicants to must have pass NBDE Part I or the INBDE (Integrated National Board Dental Examination), to be considered for admission. Official scores must be submitted to CAAPID.
https://www.ada.org/en/jcnde/examinations


Letters of Evaluation. Program requires three Letters of Evaluation. All letters must have a signature and be on the letterhead of the letter writer's affiliated organization, school or dental practice and must be in English. Program requires one Letter of Evaluation to come from Faculty of the dental school from which the applicant graduated. The two additional letters can be from other Faculty (of the applicant's dental school) or any other reference. Letters of recommendation cannot be more than two years old at the time of application. These letters are non-negotiable and should be uploaded to ADEA CAAPID by the recommending person directly.

Up to three additional letters may be accepted from other sources. These letters should be uploaded to CAAPID.

Advanced Dental Admission Test (ADAT) will be considered. Results must be uploaded as part of the CAAPID application.
https://www.ada.org/en/education-careers/advanced-dental-admission-test
Supplemental Application (send directly to LSU)
Applications are only considered complete and reviewed once the supplemental materials are received by LSU.
After submitting the ADEA CAAPID application and ADEA on-line fee, mail Supplemental Application along with the other materials (photograph, copy of passport and copy of permanent resident card) to this address:
LSU School of Dentistry
Office of Admissions, Attn: IEDP
1100 Florida Avenue, Box 28
New Orleans, LA 70119
The $75 non-refundable application fee is paid online following this link:
https://www.lsuhsc.edu/prospectivestudents/feepayment/
* Applications are not considered complete and will not be reviewed unless the CAAPID application AND the supplemental materials have been received by the university.
Interview Invitation and Bench Test
Successful applicants selected for interview will need to pay a non- refundable bench test fee of $250. Information regarding payment of the bench test fee will be included in the invitation to LSU School of Dentistry for an interview.
Applicants with strong academic credentials and a demonstrated commitment to the profession will be considered for a skill evaluation (bench test) and personal interview. Formal letters of non-acceptance will not be sent to applicants not selected for an interview.
Applicants selected for a personal interview and bench test will be invited to visit the LSU School of Dentistry. The interview day consists of an overview of the IED program, personal interview with faculty members of the IEDP admission's committee and a bench test using manikins in the preclinical laboratory. Individuals who are not able to attend the designated interview date will not be eligible for acceptance.
IEDP Advanced Placement Skills and Knowledge Assessment Curriculum
A review of first- and second-year clinically applicable courses with assessment testing is a mandatory requirement during the spring semester before beginning the program. Those courses determined to be appropriate will be developed (condensed and tailored for the advanced standing applicants) by the clinical departments. All courses are either tested by a final exam (written, simulation, OSCE) established by the course directors or by the course directors' assessment of the applicant to determine their eligibility to enter the third year of the pre-doctoral program. This eligibility is communicated to the Director of the IEDP Program by the individual course directors. Once all the assessments are received, the committee votes to offer final acceptance to the candidates.
Acceptance Notifications
Acceptance notifications will be sent at the completion of the selection process. For the candidates offered admissions to the program, a non-refundable deposit of $5,000 will be expected within 15 days of acceptance. The deposit will be applied towards the tuition of the Advanced Placement Skills and Knowledge Assessment Curriculum in Spring.
Formal letters of non-acceptance will not be sent.
Background Check
Entering students will be required to complete a criminal background check. Offers of admission are not considered final and enrollment is not permitted until completion of the criminal background check with results deemed favorable by LSUSD. The information obtained will remain confidential unless the findings result in an institutional action by the LSU School of Dentistry.
Tuition and Fees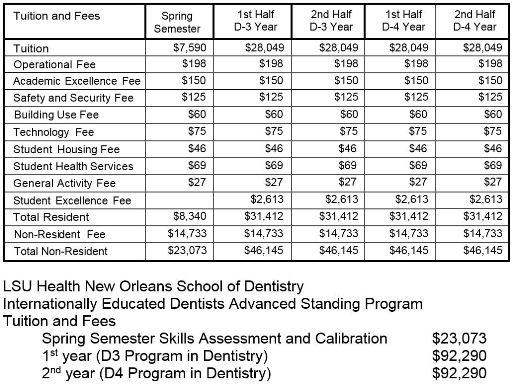 Contact Information (email preferred)
Adriana Cordero Wilson, DDS, MsD
Associate Professor of Clinical Prosthodontics
Director of the International Educated Dentists Program
1100 Florida Avenue, Box 22
New Orleans, LA 70119
Tel: (504) 941-8285
Email: acorde@lsuhsc.edu