Scholarship Recipients, 2010-2011
ADA Foundation Dental Laboratory Technology Scholarship
DLT sophomore Sunny Michelle Russell has been selected to receive a Dental Laboratory Technology Scholarship in the amount of $1,000 for the 2010-2011 Academic Year. Students submit a detailed application to the ADA Foundation which selects the scholarship recipient. Qualifications for the scholarship are based on stringent academic achievement, leadership, research, service achievements and volunteerism. The purpose of the program is to provide financial assistance to qualified students to encourage them to pursue careers in dentistry.
Baldridge Scholarship
The following students received the 2010 Baldridge Scholarship for their outstanding academic achievements in 2009-2010. Five scholarships in the amount of $500.00 are awarded in each class to the students with the highest overall GPA. The first-year dental students are selected on undergraduate GPA and performance on the DAT examination.
D1: Jacob Deniakos, Christopher Hooper, Eun-Chee Lee, Steven Nelson, Joseph Sage
D2: Katie Evans, Kristen Knecht, Christy Lottinger, Nickolas Maskas, Justin Stanford
D3: Mohammed Ismail, Cole Johnson, Alexis Nacchio, Elise Puissegur, Nicole Thieler
D4: Jeffrey Bennett, Michael Maher, Erin Maturin, Ruby Nhan, Joshua Parker
Pierre Fauchard Academy Foundation Dental Student Scholarship
Rene Bourgeois, a fourth-year dental student, received the 2011 Pierre Fauchard Academy Foundation Dental Student Scholarship. The scholarship, in the amount of $1,500, honors a third-year dental student who has demonstrated the greatest potential for developing into an outstanding leader in the dental profession. Selection criteria include leadership, professionalism, and GPA. Renee is a native of Vacherie, Louisiana and graduated from Nicholls State University. She has been class representative to the American Student Dental Association (ASDA) and this year is first delegate to ASDA.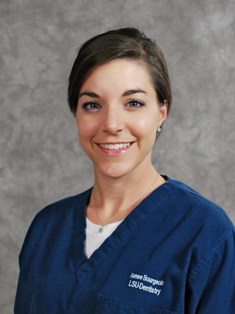 Renee Bourgeois, recipient of the Pierre Fauchard
Academy Foundation Dental Student Scholarship
J.E. Hargrove DDS Scholarship
Dr. James Eryk Hargrove, a 2008 graduate of LSUSD, recently established a scholarship fund that awards $500 each year to a first-year dental student. This year's recipient is Joshua C. Reaves, a native of Baton Rouge. Dr. Hargrove selected the winner based on essay submissions; Reaves was chosen from five applicants. A 2008 graduate of LSU, Reaves majored in biological engineering. After graduation, he worked as an intern in a civil engineering firm before starting dental school.
The scholarship follows the student as long as he/she maintains a 3.0 GPA. Each year Dr. Hargrove will award another scholarship to a first-year student.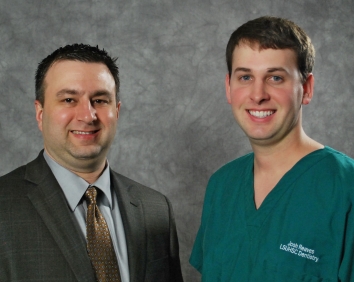 Dr. J. Eryk Hargrove (left) with scholarship recipient, Joshua Reaves
Tracy Helm
The 2011 Tracy Helm Scholarship in Dental Hygiene has been awarded to Stacie Latino, a senior student in the dental hygiene program. The scholarship is awarded each year to a senior dental hygiene student who is outgoing, kind, and considerate of her faculty, fellow students, and patients. The recipient is selected by the faculty of the Dental Hygiene Program.
The scholarship was presented by Bill Helm, Tracy's father, on April 1, 2011. He established the scholarship in 1997 as a way to honor his daughter, who died in a tragic automobile accident in 1994. She was a 1993 graduate of the Dental Hygiene Program. Since the scholarship fund was established, several members of the Helm family have made additional contributions.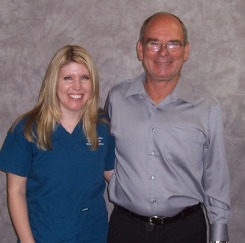 Mr. Bill Helm with Stacie Latino,
Tracy Helm Scholarship recipient
Hotel Dieu Medical and Dental Staff Scholarship in Dentistry
The 2010 recipient of the Hotel Dieu Medical and Dental Staff Scholarship in Dentistry is Scott Hannaman. The scholarship honors a fourth-year dental student who has demonstrated outstanding scholarship, leadership, and professionalism for the first three years of dental school. Hannaman is a native of Baton Rouge and LSU graduate.
LAMMICO Scholarship
First-year dental student Ashleigh Briody has been awarded the merit scholarship presented each year by the Louisiana Medical Mutual Insurance Company (LAMMICO). The scholarship is awarded to a high-achieving student to help defray tuition and other expenses. Briody, a native of Baton Rouge, graduated from LSU with a major in Biological Sciences.
LAMMICO, founded in the 1980s, provides malpractice insurance for the dental and medical professions. Since 2000, the Metairie firm has awarded 33 scholarships, each in the amount of $6,000, to first-year dental and medical students at Louisiana schools.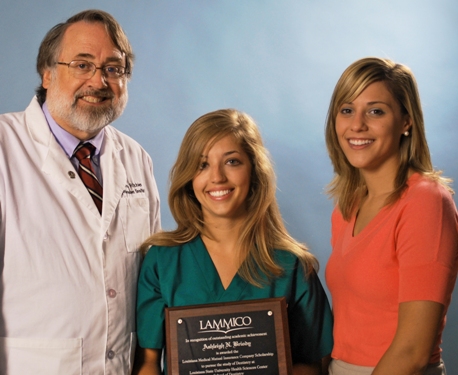 Scholarship recipient, Ashleigh Briody, is flanked by Dr. John Ritchie, director of admissions, and Liz VanDervort, assistant marketing representative for LAMMICO.
John Lapeze Scholarship
Hesham Al-Madani, DLT junior, is the recipient of the 2010 John Lapeze Scholarship. This scholarship was selected by the dental laboratory technology department honoring a junior DLT student for technical aptitude, responsibility, leadership, citizenship, and academic achievement in the previous year.
Omicron Kappa Upsilon
Alexis Nacchio is the recipient of the Kramer Award, established by the OKU Supreme Chapter in 1986. The purpose of this award is to recognize a rising junior dental student at each Component Chapter School who has demonstrated scholarship, character, and the potential promise for the advancement of dentistry and service to humanity as shown by Dr. Kramer's dedication to his profession, his specialty, and the principles and ideals of Omicron Kappa Upsilon.
Each year Theta Kappa Chapter presents the Randolph Malloy/OKU Scholarship for Academic Excellence to two senior dental students. The scholarships are based on the students' academic excellence, leadership, professionalism, and service. Randolph Malloy was a faculty member in oral surgery who lead the construction of the school in Baton Rouge after Hurricane Katrina and coordinated the return back to New Orleans in 2007. For his leadership example, the award is named in his memory. The recipients this year are Ruby Thuy Nhan and Joshua Parker.
William F. Toler Memorial Scholarship
Renee Bourgeois, third-year dental student, is the recipient of the Toler Memorial Scholarship for 2010. This scholarship is designated to reward a rising third-year dental student who has shown outstanding academic ability throughout the first two years of school and has earned a high opinion within the dental school community for scholarship, leadership and citizenship, and professionalism.
Dr. Toler was a faculty member in the Department of Prosthodontics. In 1979, the family and friends established a scholarship in his memory through the LSUHSC Foundation.
Grace Voigt Scholarship
The Grace Voigt Scholarship honors a second-, third-, and fourth-year dental student who has demonstrated outstanding leadership, concern for fellow students and patients, high ethical standards, and dedication to the profession of dentistry. The 2010 recipients are Erica Hender, D2; Cole Johnson, D3, and Jared Harris, D4.