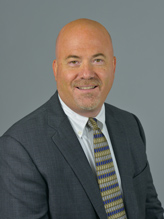 John P. Neary, DDS, MD, FACS
Assistant Professor Clinical
John P. Neary, MD, DDS, FACS began his education at Purdue University completing his education in engineering and environmental science with a Bachelors of Science with honors.  He then graduated from Ohio State University School of Dentistry cum laude in 1986.  After matching at Louisiana State University Medical Center, he completed his OMFS residency, graduated from Louisiana State University School of Medicine and then completed his general surgery and a fellowship in facial cosmetic surgery at The Facial Surgery Center of the Gulf South with Dr. Michael Kinnebrew.  He began private practice in Hudson Ohio in 1993 and combined private practice and part-time academics with an appointment at Case-Western Reserve University in Cleveland, Ohio.  He has left private practice and has returned to Louisiana State University to begin full time academic practice.  Dr. Neary was inducted into the American College of Surgeons in 1998 and was named a "Best Doctor in America" from 1996 to 2010.  Dr. Neary's expertise is in facial cosmetics, facial trauma, facial reconstruction, orthognathic surgery, and surgical treatment of obstructive sleep apnea.  Dr. Neary enjoys water sports and spending time with his family, a wife of 31 years and 3 sons.