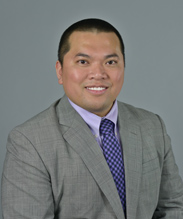 Rathana Lim, DDS, MD
Assistant Professor
Interim Director of Dental Undergraduate Education
Dr. Ray Lim joins the LSU OMS Faculty as a full time Assistant Professor.  As a recent graduate of the LSU Oral & Maxillofacial Surgery Program, he is keenly aware of the academic rigors from the residents' perspective with the enthusiasm to help mentor residents and students.  Dr. Lim achieved his Bachelors in Biological Sciences at California State University- Sacramento.  He then completed his Doctorate of Dental Surgery at University of Southern California School of Dentistry in 2007.  While at USC, Dr Lim was intimately involved in student government and serving as the Class President the Class of 2007.  He then furthered his surgical education by doing an Oral & Maxillofacial Surgery Internship at L.A. County + USC Medical Center, a Level One Trauma Center, and one of the busiest hospitals in the country.
Dr. Lim entered the LSU OMS residency in 2009.  He earned his Doctorate of Medicine from LSU School of Medicine - New Orleans in 2012, then completed his General Surgery Internship in 2013 from LSU Department of Surgery.   In addition to the general surgery, he also had rotations in Anesthesia, Plastic Surgery, Vascular Surgery, Neurosurgery, being intimately involved in the care of these patients.  Dr. Lim was trained in all aspects of Oral & Maxillofacial Surgery.  This included procedures in dentoalveolar/implants, bone and tissue regeneration, sleep-apnea surgery, head & neck pathology, with emphasis on trauma, cosmetic surgery, orthognathic/corrective-jaw surgery, and all facets of TMJ surgery.  During his Chief year, Dr. Lim also had an opportunity to be a visiting Resident-Surgeon with the Maxillofacial-Plastics-Orthodontic (MPO) Department in Leon, Nicaragua.  Along with Drs. Neary & Kim, he was able to treat many complex craniofacial and pathological conditions such as Goldenhar Syndrome, cleft-lip + palate, and a carotid body tumor.  He has authored a chapter in The Atlas of Oral and Maxillofacial Surgery.  During his free time, Dr. Lim enjoys spending time with his wife Amber, their 2 kids, and enjoying the New Orleanian culture.