Entering Classes of 2009 Professionalism Ceremony
On September 11, all 118 incoming dental, dental hygiene and dental technology students convened in Auditorium C for the first-ever F. Harold Wirth Ceremony on Ethics and Professionalism. Surrounded by family and faculty, the students publicly pledged an oath that they wrote themselves. Following the ceremony, each student signed a pledge sheet that will be framed and hung in the breezeway corridor.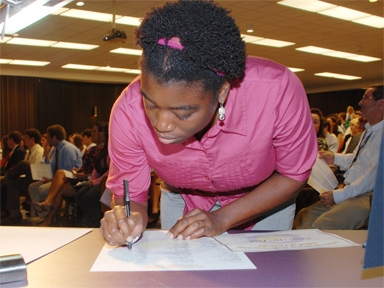 New dental hygiene student "Von" Walters signs her name pledging to uphold the highest ideals of dentistry.
Dr. Wirth was a long-time teacher in the dental school who had an enormous influence on a whole generation of dentists and dental students, not just here at LSU but throughout America. A core group of his former students, all of whom are accomplished dentists in their communities, have organized to continue the principles taught by Dr. Wirth and that is why the ceremony is named in his honor.
The White Coat Ceremony and the public pledging of a version of the Hippocratic Oath mark the momentous occasion when a student begins treating patients. Because students begin their clinical work in second year, administrators decided to move the White Coat Ceremony from freshman to sophomore year.
The common thread in all of these events is the need to emphasize and recommit to the integrity and trust of the dental profession. Year after year, surveys by the Gallop Poll have revealed that dentistry is considered among the top ten most-trusted professions in America. Countless generations of dentists have contributed to this sacred trust.