Live from Shreveport: New Era in Continuing Education
For the first time in the 40-year history of continuing education at LSUSD, a course was transmitted live and electronically from Shreveport to New Orleans. The history-making class originated from a classroom on the campus of LSU Health Sciences Center in Shreveport and was sent electronically to Auditorium B in New Orleans. That auditorium has just gone through a $1.6 million renovation and now features the very latest in communication technology.
Dr. Henry Gremillion was instructor of the course entitled, "The Many Faces of Orofacial Pain."
"Distance learning opens up a whole new way to educate the nearly 3,000 practicing dentists around the state," said Dr. Gremillion. "By breaking through geographic barriers, we can now offer scheduling flexibility."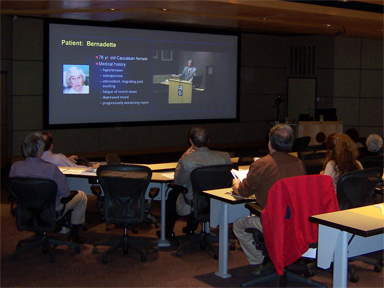 Course attendees view the presentation in Shreveport from the LSUSD auditorium in New Orleans.
In 2010, more history will be made when courses are held in seven Louisiana cities: Alexandria, Baton Rouge, Lafayette, Lake Charles, Monroe, New Orleans and Shreveport. Between 53 and 60 courses will be presented. Of this total, there will be three courses in Shreveport, a series of courses for general dentists in Baton Rouge, and a radiology course in New Orleans and Baton Rouge for dental assistants. Plans are in development for a two-day forensics course in New Orleans. Thirteen EDDA courses will be offered, including six in New Orleans, four in Baton Rouge and three in Lafayette.
Like traditional learning, the new method allows for student-teacher interaction and provides students with timely feedback.
Since the LSUSD continuing education program was started in 1969, more than 50,000 have attended about 1,000 classes. The CE infrastructure at the dental school includes a "hands on" bench-top simulation lab that accommodates 30 participants.
"Being a dentist means a lifelong commitment to top-quality patient care," said Dr. Gremillion. "That means a lifelong commitment to learning."