Research Accolades

Dr. Xiaoming Xu Receives NIH Grant
Xiaoming Xu, PhD, professor and director of biomaterials research at LSUSD, has been awarded a five-year grant in the amount of $2.46 million from the National Institute of Dental and Craniofacial Research (NIDCR), a division of the National Institutes of Health (NIH). Dr. Xu, who is head of the Division of Biomaterials in the Department of Comprehensive Dentistry and Biomaterials, holds the Jack Sheridan Endowed Professorship.

The grant project, entitled "High Performance Antibacterial Fluoride-Releasing Dental Materials," is part of Dr. Xu's efforts to develop dental materials with antibacterial and caries-inhibitory effects, strong mechanical properties, and excellent physical properties. The current treatment for dental caries, which is the most prevalent oral disease, is to remove the decayed tooth tissues and restore them with filling materials such as dental composites. However, composite restorations have a limited service life of five to seven years and their replacement accounts for 60% of dental procedures. The leading causes of the failure of composite restorations are secondary caries caused by the bacterial biofilms at the restoration margin and bulk fracture due to the weakness of the material. Therefore, the high performance dental materials developed in this project are expected to increase restoration longevity and make a significant impact on oral health care and quality of life. Dr. Xu's co-investigators include Drs. Zezhang Wen and Thomas Lallier at LSUSD, Dr. Qingzhao Yu at LSU School of Public Health, and Dr. Hyun Koo at the University of Pennsylvania.

This is Dr. Xu's fourth NIH grant. He also obtained three major grants from the Joe W. and Dorothy Dorsett Brown Foundation. Since joining the LSUSD faculty in 2001, Dr. Xu has mentored over 100 students, residents, and postdoctoral research associates. He has authored or co-authored 200 publications, including journal articles, book chapters, meeting proceedings, and abstracts; he is also the recipient of five U.S. patents.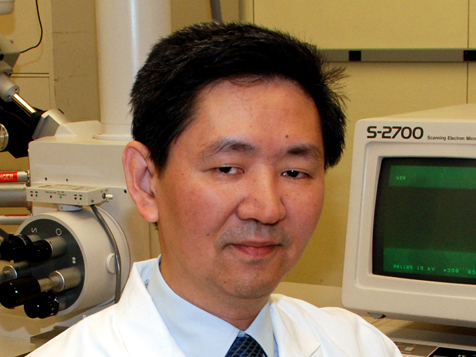 Xiaoming Xu, PhD
Research Day 2017 Honorees
The main event at Research Day, held on May 19, was oral presentations by the 16 graduating dental residents. In addition, posters from national meetings held during the past year were displayed. Another highlight was the recognition of faculty members Drs. Xiaoming Xu, Tilly Peters, Adriana Wilson, Suzanne Fournier, Brett King, and Paul Fidel, who have received NIH grants, research contracts, clinical trials, or foundation grants.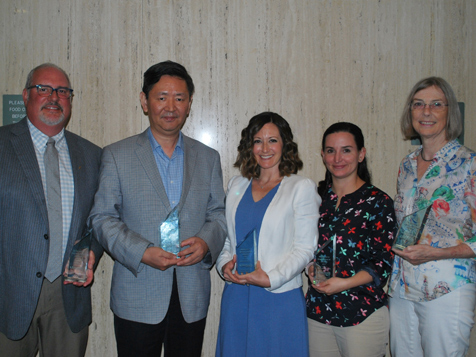 Faculty researchers: (l-r) Drs. Fidel, Xu, Fournier, Wilson, Peters
(not in photo: Dr. Brett King)
Three dental students, who received awards at the American Association of Dental Research (AADR) poster competition, will present their research at other national meetings.
Nancy Ly, mentored by Dr. Thomas Lallier, will attend the will attend th eAADR Dentsply Sirona Student Research Program in Fort Lauderdale. Tyler Mesa, mentored by Drs. Janice Townsend, Fournier, and Xu, will attend the ADA Foundation Colgate Dental Students' Conference in Gaithersburg, Maryland. Brooks Hummel, mentored by Dr. Xu, will attend the Hinman Student Research Symposium in Memphis.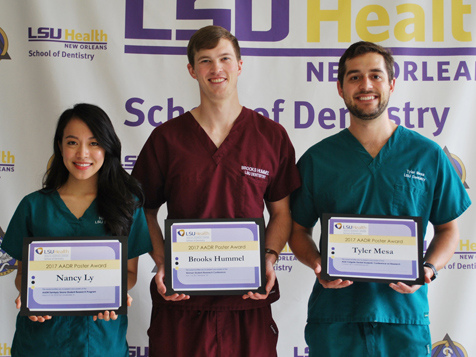 AADR poster winners: Nancy Ly (D3), Brooks Hummel (D2), Tyler Mesa (D3)
Winners of the resident oral presentations were announced: first place—Major Jared Mason, DDS, Department of Endodontics; second place—Dr. Katelyn Kennedy, Department of Orthodontics; third place—Dr. Jefferson Twomley, Department of Orthodontics. Their awards were presented at the advanced education certificate