LSUSD Hosts Touro Lecture
The 31st annual Touro Infirmary Dental Seminar, held this year on February 14 at the LSUHSC School of Dentistry (LSUSD), drew an audience of over 220 dentists. Maurice A. Salama, DMD, featured speaker, presented "Treatment Planning 2014 and Beyond: Choices, Options and Solutions for Complex Esthetic Challenges."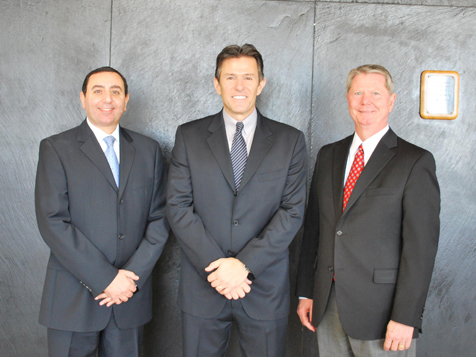 From left, Drs. Hisham Nasr, Maurice Salama, Henry Gremillion
The Touro Infirmary Dental Seminar is "dedicated to the pursuit for excellence in dental education and professional skills in dentistry." The lecture series, which began as the Charles W. Rossner Seminar in 1984, continues today as a program of the Touro Infirmary Dental Department, supported by the Touro Infirmary Foundation. Dr. Rossner's daughter, Leila Thissell, established the endowment in 1983 to fund a low-cost accredited annual seminar series for area dentists.

A native of New Orleans, Dr. Charles W. Rossner graduated from Loyola University School of Dentistry in 1928 and practiced general dentistry in uptown New Orleans. Affiliated with numerous local medical institutions, he also served on the Touro Infirmary medical staff for 50 years, until his death in February 1983. As a life member of professional dental associations, Dr. Rossner was a strong supporter of continuing dental education.

About five years ago, funding for the Rossner lecture series moved to the NODA/LDA Annual Conference. Consequently a group of dentists affiliated with Touro Infirmary, including Drs. Dov Glazer, Peter Glaser, Jack Hudson, Tim Delcambre, Guy Cresson, and Frank Martello, created a new lecture series at Touro. For the last two years, at the invitation of Dean Henry Gremillion, this series has been held at LSUSD.

Previous speakers in the Rossner/Touro lecture series include LSUSD faculty and alumni as well as dentists from throughout the United States. Dr. Hisham Nasr, LSUSD Perio '94, currently chairs the Touro Dental Seminar Committee.

Dr. Salama is clinical assistant professor of periodontics at the University of Pennsylvania and the Medical College of Georgia. He received his DMD from the University of Pennsylvania School of Dental Medicine, where he later also received dual specialty certification in Orthodontics and Periodontics. He also completed implant training at the Branemark Center at the University of Pensylvania, a general practice residency at Maimonides Medical Center in New York, and externships at Hebrew University in Jerusalem and Beth Israel Hospital in New York. He served weekly as the dental expert for Fox (WAGA) TV in Atlanta. A frequent lecturer on new technologies in dental implants, Dr. Salama is the author of over 20 publications in the dental literature.

Pediatric Dentistry Outreach Continues
The Department of Pediatric Dentistry, chaired by Dr. Janice Townsend, continues its focus on community outreach to increase access to dental care for New Orleans children. Several outreach events were held earlier this year, including the Latino Health Fair, sponsored by Puentes New Orleans; Urban League Schools Expo, at the Mercedes Benz Superdome; and Give Kids a Smile (GKAS) Day, at LSUSD. Over 200 children received a variety of services, including oral health education and screenings. Patients requiring additional care were referred to the LSUSD pediatric dentistry clinic. At the annual Give Kids a Smile Day, second- and third-grade students from Esperanza Charter School participated in the National Football League Play 60 program, received dental screenings and learned about career opportunities in dentistry.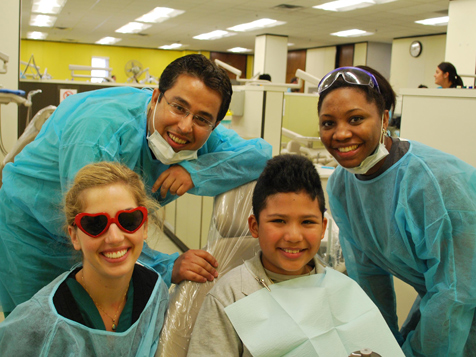 Ashleigh Briody, Dr. Puneet Wadhwa, and Ardean Leonard with patient at GKAS Day
Special thanks to members of the Student Chapter of the American Academy of Pediatric Dentistry, LSUSD faculty members, New Orleans Dental Association, American Dental Association, National Football League, and Darby Dental for supporting the outreach efforts.