Robert Skinner Named Outstanding Alumnus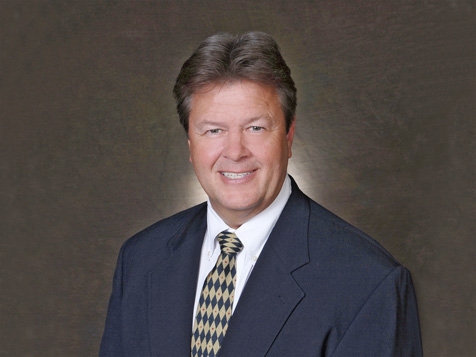 Robert L. Skinner, DDS, MS, PA
Robert Lee Skinner, DDS '86, was named 2012 Alumnus of the Year at LSUSD Alumni Day on September 21, 2012. A resident of Fort Smith, Arkansas, he came to LSUSD after receiving his BA in zoology and an MS in cytogenetics from the University of Arkansas. After graduation, he returned to Fort Smith to practice dentistry, raise a family, and serve his community.
During dental school Dr. Skinner had a keen interest in research, focussing on oral pathology, cancer, and endodontics. Of the six table clinics he presented across the country and in the Netherlands, he received two first-place and one second-place award. Ultimately, four National Institute of Health grants were awarded for his research, resulting in three abstracts and seven journal articles
Dr. Skinner's involvement in organized dentistry is equally impressive. He is a member of the Pierre Fauchard Academy, the American Dental Association (ADA), the Arkansas State Dental Association (ASDA), the Northwest Dental District Society, and the Fort Smith Dental Association. He is also a fellow of the International College of Dentists and the American College of Dentists.
He has served in many leadership roles as well. He is the current ADA District 12 Delegate and past-president of ASDA. On a national level, Dr. Skinner completed his four-year term on the American Dental Association Council on ADA Sessions in 2009. He was then elected by the council to serve as the ADA Annual Session general chairman for the organization's 150th anniversary celebration in Honolulu, Hawaii.
Dr. Skinner has also been the recipient of numerous awards: the ADA Alan J. Davis/SCADA Achievement Award, the ASDA Distinguished Service Award and its New Dentist Award, and the Procter & Gamble Preventive Dentistry Award.
In 1992, due to his efforts as co-founder of the Community Dental Clinic in Fort Smith, he received the Community Service Award presented by the Office of the Governor and KARK TV and the 699th Point of Light Award presented by former President George H.W. Bush. The clinic provides free dental services to the underprivileged and the indigent.
To address a dental hygienist shortage in Arkansas' northwest region,he formed a task force in 1996 to develop a dental hygiene training program at a local community college. In 2001 Westark Community College, now known as University of Arkansas Fort Smith (UAFS), graduated its first class of hygienists. In the program's third year, it was rated 16 out of 240 nationwide in national board scores.
Dr. Skinner currently holds staff appointments at St. Edward Mercy Medical Center and Sparks Regional Medical Center and is serving his second term on the St. Edward Mercy Advisory Board. He is a member of the UAFS Athletic Advisory Board and has served on the UAFS Alumni Board of Directors. In addition, he is a member and past-president of the United Way of Fort Smith and a member of the Fort Smith Noon Exchange Club. Dr. Skinner is also an active volunteer for the Boy Scouts of America and serves on its Westark Area Council Executive Board. Attaining the level of Eagle Scout in his youth, his passion for the organization has never waivered.
In addition to scouting, tennis has been a lifelong passion. He has served as president of the Western Arkansas Tennis Association and helped to establish the Community Tennis Center at Creekmore Park. He was also instrumental in establishing a tennis program at UAFS.
In light of his many achievements, Dr. Skinner says "I am most proud of my three beautiful daughters. As much pleasure as all my passions and hobbies bring me, nothing compares to the joy I receive from watching my girls grow into great young women. His daughters are Lisa (25), Lesley (22), and Lindsey (20).
Dr. Skinner was nominated for the Alumnus of the Year Award by 1989 graduate Dr. Dwight D. Duckworth. He wrote, "Dr. Skinner has remained committed to providing outstanding dentistry to his patients while also serving his community and the field of dentistry as a whole. I cannot think of a more deserving recipient."