Dentsply Sirona Supports New Labs

Dentsply Sirona recently donated equipment valued at $679,720 for the school's new preclinical laboratories. The contribution includes 20 CEREC AC Bluecam units, eight MC XL milling machines, and eight communication radios. In addition to the two previously purchased Omnicam units currently used in the junior and senior clinics, two additional Omnicams were provided for the clinics at half the cost. Sirona's donation will allow students to learn with the most up-to-date dental technology.

CEREC (Chairside Economical Restoration of Esthetic Ceramics or CEramic REConstruction) is a method of CAD/CAM dentistry developed by Werner Mörmann and Marco Brandestini at the University of Zurich in 1980. The CEREC system allows a dental practitioner to produce an indirect ceramic dental restoration using a variety of computer-assisted technologies that include 3D imaging and CAD/CAM (Computer Aided Design/Computer Aided Manufacturing). A patient's teeth can be restored in a single sitting with CEREC rather than in the multiple sittings required with earlier techniques. CAD/CAM dental restorations are milled from solid blocks of ceramic or composite resin that closely match the basic shade of the restored tooth. Crowns, veneers, onlays, and inlays can be prepared using different types of ceramic material. The current Omnicam units, capable of capturing precise 3D intraoral scans in full color, are suitable for use with single-tooth cases or full-mouth reconstructions.

The fundraising campaign to rebuild and transform the seventh floor student preclinical laboratories in the E.E. Jeansonne Clinical Building was launched in 2009. The $8.2 million state-of-the-art renovation offers an exceptional learning environment for students as they perfect their hand skills in the preclinical labs prior to treating patients.

Drs. Tommy Giacona, Dale Ehrlich, and Abdallah Awada played a pivotal role in securing support from Dentply Sirona for the preclinical labs. Sirona has a long history of supporting LSUSD.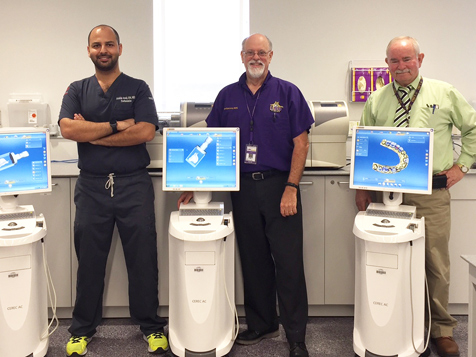 l-r, Drs. Abdallah Awada, Tommy Giacona, and Dale Ehrlich with the Dentsply Sirona units in the 7th floor preclinical lab
"Dentsply Sirona is pleased to support LSU with this donation of CEREC® equipment for the purpose of providing students with the opportunity to learn about digital dentistry," said Betsy Ashworth, director of academic relations for Dentsply Sirona. "This equipment will also enhance the treatment patients receive as the clinic will be using the newest technologies in dentistry. One of the most substantial benefits of CEREC is treatment completion in one visit. This is now possible at LSUSD."

The renovation of the labs was only possible due to the generous support of our alumni and friends. Contributions of $3.3 million from individuals and organizations helped to secure $4.2 million from the state legislature and over $500,000 from the university. To those who have contributed to this important project, thank you!

More naming opportunities are still available in the labs. The majority of future contributions will be deposited into an endowed fund to ensure the labs remain in excellent condition for years to come. For more information or to contribute, please call our Office of Alumni Relations at (504) 941-8120.
Register now for Alumni Day on Friday, September 22!
Join us for quality continuing education, campus tours, raffle prizes, and a Student Government Association art auction. C.E. topics this year include:

Dental Management of the Medically-Compromised Patient
Interprofessional Education: From Understanding to Practice
Implant Complications with Current Treatment Modalities in the Edentulous Maxilla: A New Generation of Hybrid Prosthesis
Pulp Fiction or Fact: A Contemporary Revew of Pulp Therapy in Pediatric Dentistry
For more information or to register, contact the Office of Continuing Dental Education
at (504) 941-8193