Dental Students Give Back

Congratulations to Tyler Mesa, third-year dental student, who received the 2017 ADEA/GlaxoSmithKline Consumer Healthcare Preventive Dentistry Scholarship.
One of only twelve recipients of this award for 2017, Tyler was recommended for the scholarship by Dr. Janice Townsend and nominated by Dean Gremillion. The scholarship winners, who have demonstrated academic excellence in preventive dentistry, receive $2,500, which is applied to tuition and fees for predoctoral dental study. A Mandeville native, Tyler graduated from the University of Colorado at Boulder. He is particularly interested in treating children and special needs patients and serves as vice-president of the LSUSD Pediatric Dentistry interest club.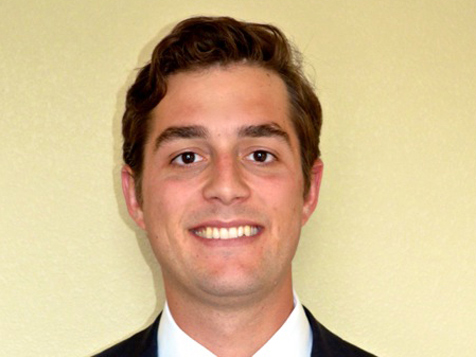 Tyler Mesa, ADEA/GlaxoSmithKline Consumer Healthcare Preventive
Dentistry Scholarship recipient
Jeffrey Kerst, second-year dental student, has been elected to a one-year term as the American Student Dental Association's (ASDA) District 5 Trustee. In this position he will be the representative and liaison to the American Dental Association for the southeastern United States, advocating for the rights, interests, and welfare of dental students. A native of Hot Springs, Arkansas, Jeffrey graduated from the University of Arkansas at Little Rock.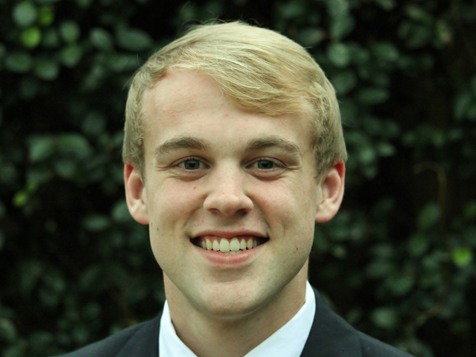 Jeffrey Kerst, ASDA District 5 trustee
Hannah Boudreaux, third-year dental student, along with committee members Maggie Laborde, Tyler Mesa, Dayton Prudhomme, Kat O'Hara and Ainsli Hollier, organized Give Kids A Smile Day, which was held on the morning of February 10. This was the first year that dental students were responsible for planning the event. Over 120 third grade students from McDonough City Park Academy received dental screenings and cleanings as well as information about oral hygiene and nutrition. A magic show, photo booth, and outdoor exercise events were a highlight for the children. NODA and LSUSD dentists, residents, and dental and dental hygiene students participated in the children's dental care.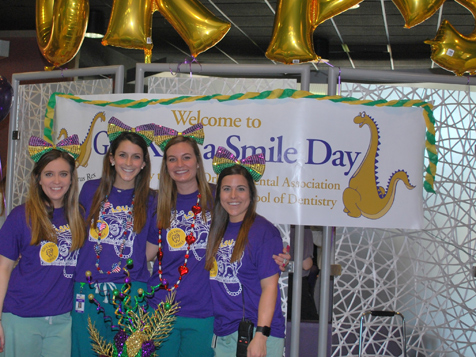 (l-r) Kat O'Hara, Stephanie Sotile, Hannah Boudreaux, and Ainsli Hollier
The Pediatric Dentistry after-hours clinic hosted a pajama party on January 25, to celebrate its grand opening. A grant for $37,000 from Healthy Smiles Healthy Children (HSHC), the Foundation of the American Academy of Pediatric Dentistry, has enabled the LSUSD Department of Pediatric Dentistry to open the after-hours dental clinic. Patients, students, and faculty members came in pj's to the grand opening to enjoy games, movies, a photo booth, and tooth brushing demonstrations. Anticipating that this clinic will serve as a national model, Dr. Neophytos Savide, HSHC president, and Paul Amundsen, MNA, CFRE, HSHC vice president, attended the opening to see the clinic in action.
Each month the clinic is open two evenings, from 5:00-8:00 p.m., and one Saturday, from 8:30 a.m.-12:30 p.m. Under the direction of Kimberly Patterson, DDS, MS, assistant professor and predoctoral program director, this volunteer dental student-facilitated clinic expects 900 patient visits per year. The clinic accepts Medicaid and LaCHIP while other patients can benefit from discounted care under the school's student fee schedule. Patients can make appointments by calling 504-941-8201.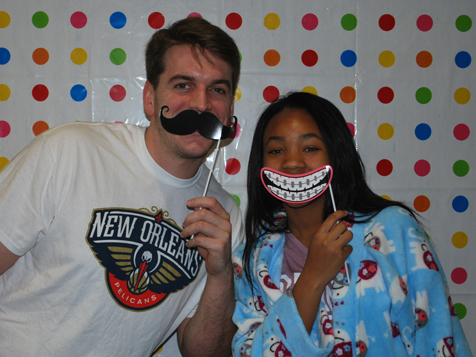 Dental student Evan Tatford and a patient enjoy the photo booth at the after-hours clinic pajama party