OKU, Kells Induct New Members
Faculty members and students were recently inducted into two LSUHSC School of Dentistry honor societies. Omicron Kappa Upsilon (OKU) and the C. Edmund Kells Honor Society held their annual joint convocation banquet on April 11 to honor new members and to award scholarships to deserving students.
OKU is a national dental honor society created in 1914 to promote and recognize scholarship and character among students of dentistry. Theta Kappa, established in 1971, is the LSUSD component chapter. The 2012 officers are Dr. John Ritchie, president; Dr. Laurie Moeller, president-elect; Dr. Richard Ballard, vice-president; Dr. J Hochstedler, secretary-treasurer; and Dr. Toby Cheramie, past-president. With Dr. Ritchie's retirement on May 1, Dr. Moeller will assume the office of president.
Each year the OKU chapter elects 12% of the senior class to alumni membership. New alumni members from the Class of 2012 are Ashley Altazin, Joshua Brandner, Mohammed Ismail, Cole Johnson, Alexis Phaup, and Nicole Thieler.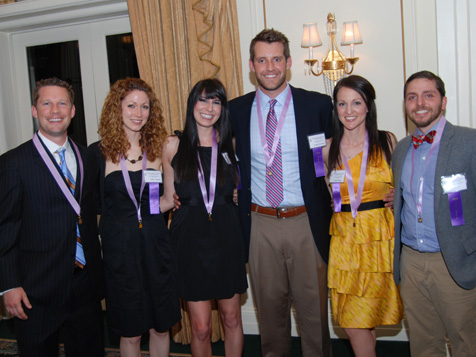 New OKU alumni, from left, Cole Johnson, Ashley Altazin, Nicole Thieler, Joshua Brandner, Alexis Phaup and Mohammed Ismail
Dr. Archontia (Toula) Palaiologou, assistant professor of periodontics and director of the periodontics advanced education program, and Darlene Brunet, assistant professor and director of student affairs, were inducted into OKU as faculty member and honorary member, respectively.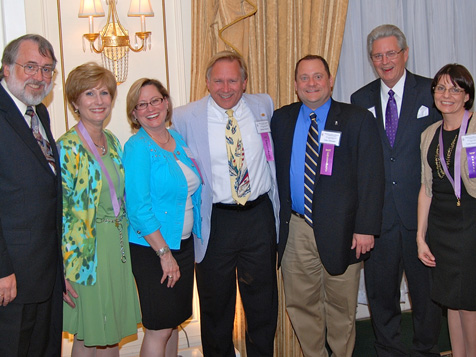 OKU officers with Darlene Brunet, honorary member (second from left) and Dr. Toula Palaiologou, faculty member (on right)
Third-year dental student Katie Evans received the Dr. William S. Kramer Award of Excellence. Recipients of the Randolph B. Malloy/OKU Scholarship for Academic Excellence were fourth-year students Nicole Thieler
and
Mohammed Ismail.
The C. Edmund Kells Society, a local honor society created at LSUSD, is named for New Orleans' most famous dentist. Dr. Kells was the first U.S. dentist to take intraoral radiographs on a living person. Current Kells Society officers are Katie Evans, president; Nicole Russo, vice-president; and Matthew Davis, secretary/treasurer. Dr. Paul Armbruster serves as faculty advisor.
New members of the Kells Society who were honored at the banquet are Jennilee Arrington, Zachary Bulmanski, Erin Carter and Brian Schmidt, Class of 2012; Khanh Luong, Kevin McPherson and Sean Sebourn, Class of 2013; and Matthew Davis, Colten Ducote, Preston Jones, Jacque LaBry, Eun-Chee Lee, Griffith Lewis and Steven Nelson, Class of 2014. The Kells Society 2012 honorary faculty member is Dr. Robert Brannon, professor and director of the Division of Oral and Maxillofacial Pathology.
Junior students, Christy Lottinger and Sean Sebourn received the C. Edmund Kells Society Student Scholar Award. The recipients of these scholarships are regarded by their Kells classmates as exceptional student dentists and individuals.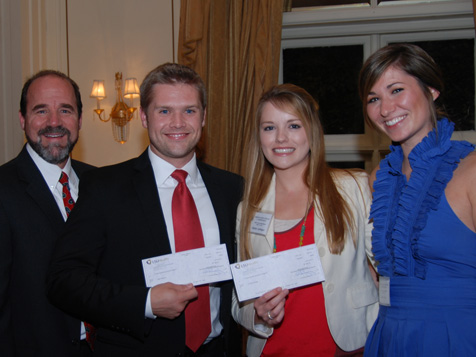 Sean Sebourn and Christy Lottinger with Dr. Paul Armbruster, advisor, and Katie Evans, president

We congratulate the new members of Omicron Kappa Upsilon and the C. Edmund Kells Honor Society as well as the scholarship recipients of both societies who exemplify academic, professional, and personal excellence in dentistry.