International Program Inaugurated
This year LSUSD joins other U.S. dental schools to welcome internationally-educated dental graduates into our DDS program. Dr. Toby Cheramie, assistant dean of admissions, student services, and alumni affairs, and Dean Henry Gremillion serve as interim co-directors of the LSUSD Internationally Educated Dentists Program (IEDP). Along with 35 other schools, LSUSD participates in the ADEA Centralized Application for Advanced Placement for International Dentists (CAAPID) program.

During the two-month open application period ending on the first of November, 262 foreign dentists submitted applications to LSUSD. Of the 139 complete applications received, ten applicants were invited to the school for interviews while 15 others were selected as alternates. The review committee met with applicants on November 20 and December 11. During the interview process, applicants must complete a manikin-based simulation exam and a panel interview with committee members.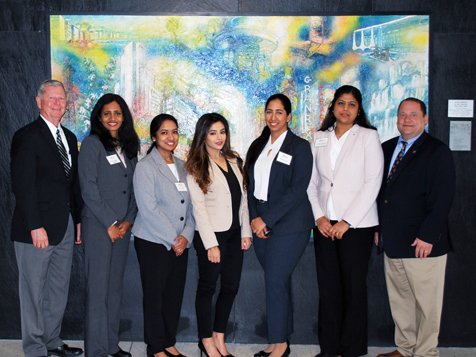 The first group of ten applicants invited to interview for the
Internationally Educated Dentists Program, with
Dean Gremillion and Dr. Cheramie
During the spring semester, from March through June, dentists admitted to the program are required to attend the IEDP Advanced Placement Skills and Knowledge Assessment curriculum, a review of first- and second-year clinically applicable courses with assessment testing. Appropriate courses will be developed (condensed and tailored for the advanced standing applicants) by the clinical departments. Once assessments are completed, the committee will vote to offer final acceptance to the candidates. If accepted, students will be enrolled as traditional third-year students with no further customization of courses and curriculum.

Applicants, who must have a dental degree and English proficiency, are required to submit numerous credentials which will be rigorously screened. While a minimum GPA of 3.0 is recommended, more competitive GPAs will be given first consideration. Applicants must be proficient in the English language; those whose native language is not English are required to take the Test of English as a Foreign Language (TOEFL). Successful completion of the TOEFL internet- based exam with a score of 100 or above is required.

Tuition and fees for students entering the program in 2020 are:
| | |
| --- | --- |
| Spring semester: Skills Assessment and Calibration | $23,073 |
| 1st year: D3 Program in Dentistry | $92,290 |
| 2nd year: D4 Program in Dentistry | $92,290 |
Further information is available on the IEDP website:
www.lsusd.lsuhsc.edu/internationally_Educated_Dentist_ Program.html
or contact Lynn Pittman at 504-619-8500.