Implant Fellows Enrich Academics
To address the increasing demand from dental professionals for in-depth training in the placement and restoration of dental implants, two departments at the LSUHSC School of Dentistry (LSUSD) offer implant fellowships. This year corporate sponsors support five implant fellows: Drs. Ioannis Tsourounakis, Lauren Santarufo, and Cherie Senger, in the Department of Periodontics; and Drs. Pavinee Chotiwannaporn and Andreina Sananez, in the Department of Prosthodontics.
In addition to offering a valuable educational experience for fellows, such programs enrich the overall learning environment for dental students and residents. Fellows come to the school with diverse backgrounds and experiences, thereby contributing to the collective body of knowledge and strengthening the learning environment in the clinic and the classroom.
Department of Periodontics Fellows
Dr. Ioannis Tsourounakis received a DDS from Aristotle University in Thessaloniki, Greece. He received a certificate in periodontics from LSUSD in June 2012 and a master of healthcare management from the University of New Orleans in 2011. The Straumann implant fellow for 2012-2013, Dr. Tsourounakis is the author of seven dental publications and presentations.
Dr. Lauren Santarufo is originally from Florida. She received her DMD from the University of Pennsylvania in 2010 and completed the LSUSD general practice residency in Baton Rouge in 2011. Dr. Santarufo practiced general dentistry in New Orleans and Texas and has done extensive volunteer work in Louisiana, Pennsylvania, Florida, Costa Rica, and Nicaragua. She is the Zimmer implant fellow for 2012-2013.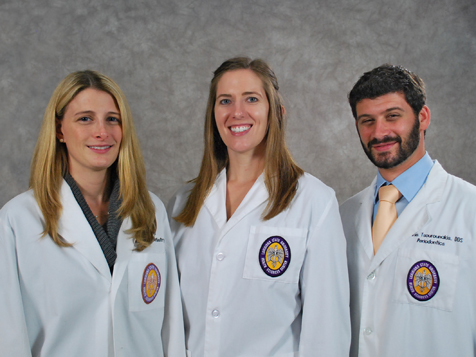 Periodontics implant fellows, Drs. Lauren Santarufo, Cherie Senger, and Ioannis Tsourounakis
Dr. Cherie Senger graduated in 2012 with a DDS from the University of Iowa College of Dentistry. She is eager to expand her dental implant experience. An active participant in multiple volunteer dental activities in Iowa, Dr. Senger is the Periodontics Nobel Biocare implant fellow for 2012-2013.
Department of Prosthodontics Fellows
Dr. Andreina Sananez graduated with a DDS from Universidad Central de Venezuela in 2006 and practiced general dentistry from 2006-2009. She received a master of science in oral biology and in 2012 completed a residency in prosthodontics at the Georgia Health Sciences University. She is the Prosthodontics Nobel Biocare implant fellow for 2012-2013.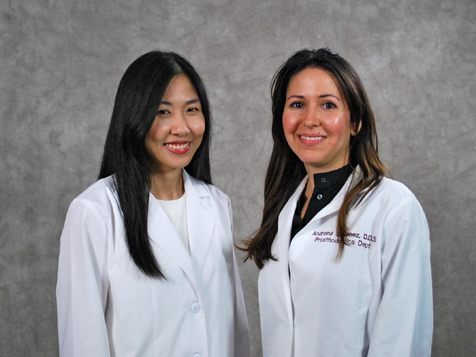 Prosthodontics implant fellows, Drs. Pavinee Chotiwannaporn and Andreina Sananez
Dr. Pavinee Chotiwannaporn received a DDS from Chulalongkorn University in Bangkok, Thailand, in 2005. During the next three years, she practiced general dentistry in Thailand. She received a certificate in graduate operative dentistry from Indiana University-Purdue University in 2009 and in 2011 she received both a certificate in graduate prosthodontics and a master of science in dentistry from the same school. Dr. Chotiwannaporn is the Biomet 3I fellow for 2012-2013.
Implant Fellowship Programs
Admission to the periodontics implant fellowship, directed by Dr. David Simmons, requires a dental degree. A DDS and certificate in prosthodontics is required for admission to the prosthodontics implant fellowship, coordinated by Dr. Joaquin Berron. For more information about these programs, click on Future Students on the LSUSD home page.
Patient Information
Information on appointments for implant services at the LSUSD Advanced Education clinics is available at www.lsusd.lsuhsc.edu/AdvancedEducClinics.html. Click on the Periodontics and Prosthodontics links on this web page to learn how to become a patient.