Congratulations to Our Graduates
The 46th commencement ceremony of the LSUSD School of Dentistry was held on May 18, 2017. This year 64 students received the doctor of dental surgery, 37 received bachelors of science in dental hygiene, and two received the associate degree in dental laboratory technology (DLT). At the Recognition Ceremony held on May 17 at the dental school, departments and professional associations presented awards to the many deserving students.
The top students from each program received the Dean's and Chancellor's Awards. Recipients of the Dean's Award were Tam Nguyen (DLT), Catherine Garcia (Dental Hygiene), and Kramer Sherman (DDS). The Chancellor's Award was presented to Brett Perkins (DLT), Paige Mitchell (Dental Hygiene), and Thuy Nguyen (DDS).
Among the numerous awards given at the Recognition Ceremony were leadership awards from the LSUSD Alumni Association. Keynote speaker Claudia Cavallino, DDS, alumni association president, presented awards to school officers Lindi Perkins, Kat O'Hara, Alexa Quigley, and Brett Perkins.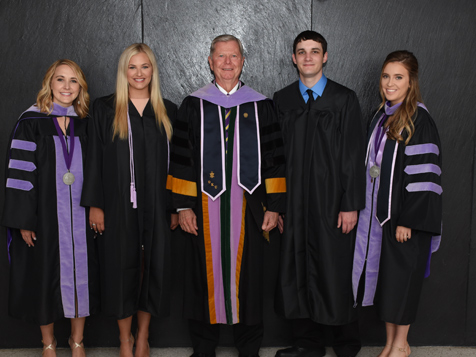 Leadership Award recipients (l-r) Lindi Perkins, Alexa Quigley, Dean Gremillion, Brett Perkins, Kat O'Hara
Faculty members were honored for excellence in teaching. Chosen by the graduating class of each program, recipients of Golden Apple Awards were Toby Cheramie, DDS, assistant dean of admissions, student affairs and alumni; Heather Allen, RDH, MSHCM, assistant clinical professor of dental hygiene; and David Vela, associate professor of prosthodontics-dental laboratory technology.
Sydney Guidroz, dental class president, delivered the closing address. She told her fellow graduates, "I am hopeful that your individual expectations of yourselves result in quality care of and caring for those whom you will be privileged to treat and great reward as your careers flourish."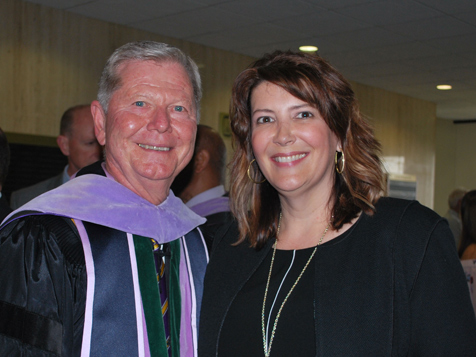 Dr. Claudia Cavallino, alumni association president, with Dr. Gremillion

Dr. Tommy Giacona Receives Copping Award
During the commencement ceremony each year, the Allen A. Copping Excellence in Teaching Award is presented to one faculty member in each of the six schools of LSU Health New Orleans. The dental school award recipient for 2017 is F. Thomas Giacona, DDS, assistant professor of Comprehensive Dentistry and Biomaterials. Dr. Giacona received his DDS from LSUSD in 1977. Following graduation, he entered private practice in general dentistry while also providing dental care to children in dental clinics in city-run housing developments. In 1998 he joined LSUSD as a part-time clinical instructor in the Department of General Dentistry; meanwhile in 2002 he began a solo private dental practice. He became a full-time faculty member in 2009, and currently serves as head of the divisions of operative dentistry and clinical comprehensive dentistry. The recipient of numerous honors and awards for his service to the LDA, NODA, Louisiana State Board of Dentistry, and other organizations, he is also a Fellow of the American College of Dentistry and the International College of Dentistry. His tireless efforts in student advocacy are recognized by all. As both a part- and full-time member of the LSUSD faculty, Dr. Giacona has played a significant role in the educational program.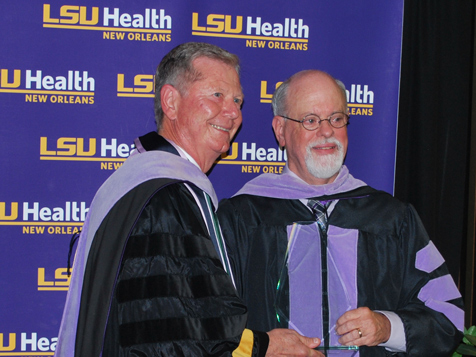 Dr. Tommy Giacona, 2017 recipient of the Allen A. Copping Excellence in Teaching Award