A Partnership for Louisiana Children
The LSU Health School of Dentistry (LSUSD) is a partner with The Health Enrichment Network, a non-profit that helps educators and parents understand the importance of good oral health for children. Funded through a grant from the Health Resources and Services Administration (HRSA), EatMoveGrow (EMG) connects schools with the necessary tools they need to help children grow up fit and healthy. Lisa Staples, MPH, CHES, the LSUSD Oral Health Lead for EMG, helps to coordinate its dental initiative.
Eat Move Grow operates in 23 parishes and is working with more than 40 schools. In addition to dental screenings, they offer a wide variety of services like healthy lifestyle curriculum, painted play spaces, grants for other healthful initiatives, and assistance to help the school cafeteria to offer healthy options.

From 2017 to 2020, the organization was able to offer dental services to almost 1,500 children across 16 schools with an estimated value of $127,903. The dental program incudes a dentists screening as well as dental sealants and fluoride varnish by a local hygienist. EMG works with the school nurses if a dental issue is identified and connects the child and their family with local dental providers. Prior to her current position, Ms. Staples worked as a teacher in Teach for America. "That experience is what drove me to get my Master's in Public Health," she says. After receiving her master's degree from LSUHSC School of Public Health, she started with EMG in January of 2018. By October of that year she was working at LSUSD to help facilitate the school-based dental services.
"Access to care is a major issue in rural areas. From 2019-2020, 15% of the children who were seen in school dental clinics required urgent care," she says. EMG cited that 23% of children seen from 2017-2020 had decayed molars. In that time, almost 3,200 sealants with an estimated value of $80,000 were placed on children's teeth. According to the Centers for Disease Control (CDC), children who have poor oral health often miss more school and receive lower grades than children who don't and by the age of eight more than half of children (52%) have had a cavity in their baby teeth. Studies show that drinking fluoridated water and getting dental sealants helps to avoid expensive dental care.
The Louisiana Dental Association is also a part of the effort, helping to identify dentists in rural areas who will provide care to the children, especially those providers who accept Medicaid. Several of our dental and dental hygiene alumni participate in the program. Due to COVID restrictions, EMG sponsored in-person dental clinics have come to a halt, but there are some virtual tools that the schools can use to keep children healthy. Looking ahead, EatMoveGrow has a lot planned for Children's Dental Health Month in February. This includes virtual events and ways for educators to keep their children healthy and engaged during this time. Visit eatmovegrow.us for more information.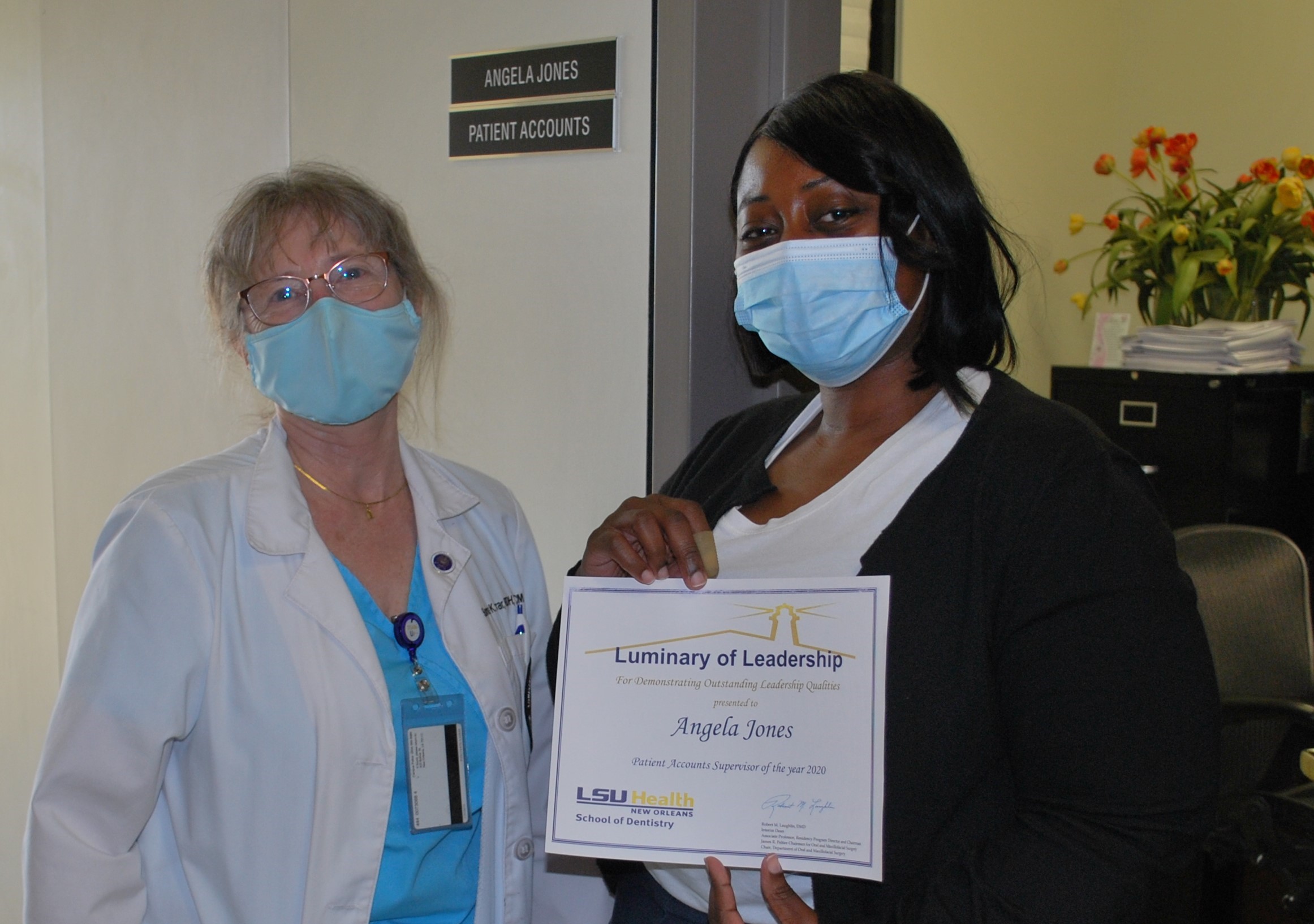 Outstanding patient care and service is always important.This month, Angela Jones, patient accounts supervisor, was named a "Luminary of Leadership" as the patient accounts supervisor of the year for 2020. Suzanne Farrar, RDH, MSHCM, Director of Clinical Staff and Patient Services, presented the certificate to Ms. Jones. The honor reconizes an LSUSD employee who demonstrates outstanding leadership qualities and contribution to their professions.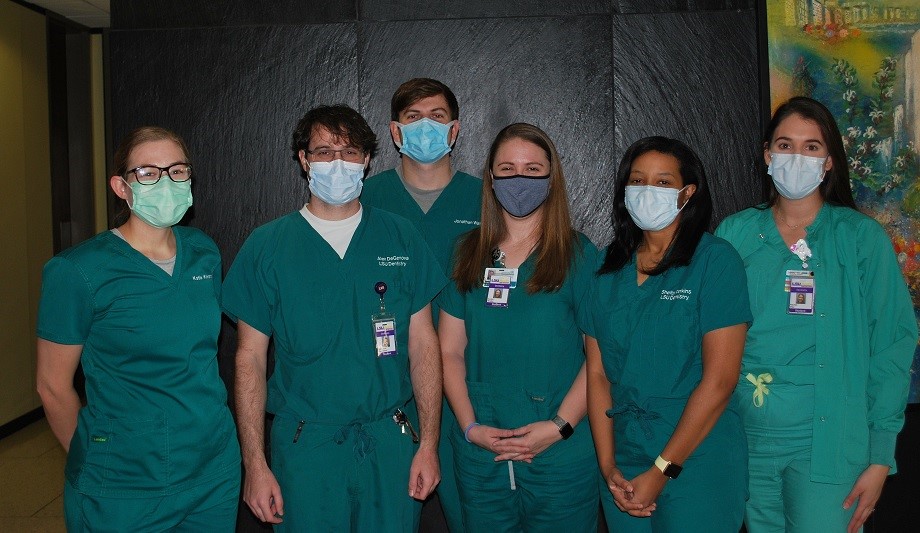 During the Students Professional and Ethics Association (SPEA) Annual Session, the LSU Health School of Dentistry SPEA Chapter was the receipient of the organization's "Momentum Award." The national award recognizes the student chapter that has worked hard to host successful events and to establish a strong presence at their school. LSU's SPEA Chapter was recently founded in 2019 and holds regular events for the student body--including an annual Residents' Panel, Lunch 'N Learns featuring American College of Dentists Members as guest speakers, and creative fundraisers.The chapter continues to grow every semester.
Faculty Achievements
Dr. Amir Nejat is one of three doctoral students who received the 2021 Stanley D. Tylman Research Award from the American Academy of Fixed Prosthodontics. The award supports postdoctoral student research in fixed prosthodontics through competitive grants. He is also one of six finalists for the John J. Sharry Research Competition of the American College of Prosthodontics, which is held annually to stimulate and acknowledge original research in prosthodontics by students. In July, Dr. Nejat joined the LSU Health School of Dentistry as an assistant professor in the Department of Prosthodontics.

Dr. Fay Mascarenhas recently completed the membership categoy level of "Fellow" in the America College of Prosthodontics. The level of fellow means that she is board certified, which requires the passing of a rigorous four-part examination conducted by the American Board of Prosthodontics. Dr. Mascarenhas is an assistant professor in the Department of Prosthodontics.
Edwin Kee, BS, MCDT has been nominated for the National Association of Dental Laboratories Certified Dental Technician of the Year Award, which is presented annually to a technician who has made outstanding contributions in the dental laboratory technology industry. Mr. Kee is an associate professor in the Department of Prosthodontics.
This #GivingTuesday we invite you to give the gift of education. On December 1st, the LSU Health School of Dentistry is proud to participate in this national day of giving. Please use the link to donate: https://give.lsuhealthfoundation.org/Dentistry