Supporting Diversity
Student National Dental Association
The SNDA chapter at LSUSD is a student-run organization advised by Drs. Stephen Brisco, Van Himel, and Helen Price. Committed to providing oral health care to underserved communities in Louisiana, the chapter is also dedicated to increasing the presence of minorities in dentistry by offering a supportive environment for students who are underrepresented in the profession. The chapter's activities extend from the dental school to the local community, New Orleans universities, and its national association. Since its chartering in 2015, the chapter has increased membership from eight to 35 students. Current officers are Amber Cook, president; Corey Romero, vice-president; Lauren Roberts, treasurer; and Lorena Romano, secretary.
This summer eight members of the group traveled to Dallas to attend the 45th SNDA Annual Convention, held in conjunction with the 104th National Dental Association (NDA) Annual Convention. Along with students from 60 other chapters, the LSUSD students attended seminars, networked with other students and practicing dentists, and provided free oral health screenings. Celeste Edwards, D2, was elected SNDA representative to the NDA Board of Trustees.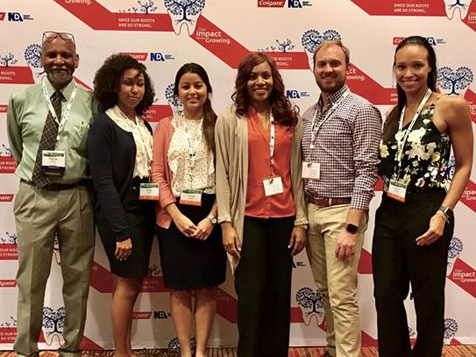 l-r, Dr. Stephen Brisco with LSUSD SNDA members Amber Cook; Lorena Romano; Candice St. Etienne, DDS 2017; Colby Terry; Lauren Roberts
Alexis Irby, DMD, immediate past-president of SNDA, said, "We are so proud of the LSUSD Chapter! From the beginning of their rechartering, they have gone above and beyond our expectations with excellent programming and community engagement. This chapter has become a vibrant addition to the SNDA family."
Last year the chapter held several events for undergraduate and high school students interested in dentistry. Impressions Day, a national program designed to mimic a "day in the life of a dental student," drew over 100 attendees. Application Help Day, unique to LSUSD, was held near the opening of the AADSAS application cycle; attendees were invited to bring their curriculum vitae and personal statements for review and to participate in mock interviews. Another focus of the chapter is interaction with and mentoring of students at Xavier and Dillard universities. SNDA members held a chalk-carving session at Xavier and, partnering with the LSUSD American Student Dental Association, students spoke to the Dillard University Pre-Dental Society.
The SNDA participates in community events with organizations such as the American Diabetes Association, LSUHSC Schools of Nursing and Medicine, and the NDA. One such event was the Summer Camp "Back to School Cavity Free!" program jointly sponsored by the New Orleans Recreation Department Commission and the NDA.
In preparation for the upcoming school year and next year's convention, SNDA has signed up Dillard University as an undergraduate chapter (USNDA) to further aid students in their transition to dental school and increase student body involvement at LSUSD.
All LSUSD students are welcomed to attend monthly meetings and to join the chapter. Creation of a chapter website to increase accessibility to the school and community is in the planning stage. Meanwhile, SNDA activities can be followed on Instagram: @snda.lsuhsc.
Multicultural Affairs and Diversity Committee
Charged with ongoing assessment and furthering development of diversity and multiculturalism at LSUSD, the Multicultural Affairs and Diversity Committee directs its efforts toward "creating an environment of enhanced cultural awareness, knowledge, and opportunity for a diverse institutional community of faculty, staff, and residents." Under the chairmanship of Dr. Suzanne Fournier, director of the pediatric dentistry advanced education program, the committee consists of faculty, staff, students, and residents.
Among items on the committee's agenda are revising the LSUSD recruitment policy, organizing annual multicultural GIF's and Sweets for Solidarity, and changing the bathrooms on the first floor of the administrative building into all-gender facilities. The committee is currently waiting for space to establish an interfaith room for meditation and prayer. In conjunction with LSUHSC Schools of Medicine and Public Health as well as the Xavier School of Pharmacy, the group hosted its first Robert Wood Johnson Foundation grant-sponsored Summer Health Professions Education Program. The committee is currently working on setting up a series of foreign-language lunch n' learns to help the dental school community converse with patients who speak Vietnamese, Spanish, Arabic, and American Sign Language.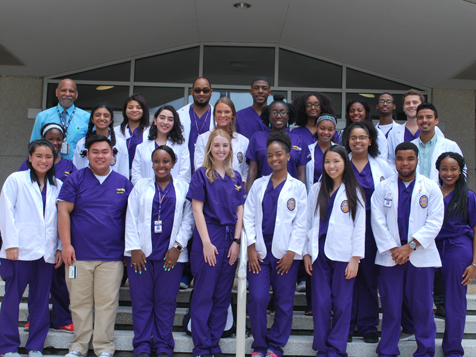 Dr. Stephen Brisco (upper left) with students at the Summer Health Professions Education Program