Attracting Future Students
Two events were held at LSUSD this month to introduce future or potential students to careers in oral health and to the dental school. Dash...into Dentistry, a new program for high school students, was conceived and organized by the Central Louisiana Area Health Education Center (AHEC). Pre-Dental 101: A Brush Up on Dentistry is a joint venture between the LSU Pre-Dental Society and LSUSD. In both programs, faculty members and LSUSD students present future students with a comprehensive overview of the profession and the school.

Fifty students from high schools in rural areas in central Louisiana attended Dash...into Dentistry held on January 8. These students, who are interested in dentistry, dental hygiene, or dental lab technology, participated in activities specific to their intended field as well as group discussions about university programs, the admissions process, and dental public health as an example of alternative careers to clinical dentistry. At a lunch-time Q&A session, a panel of LSUSD students from rural areas shared their own experiences with the high school students to provide them with a clearer understanding of what to expect in dental school.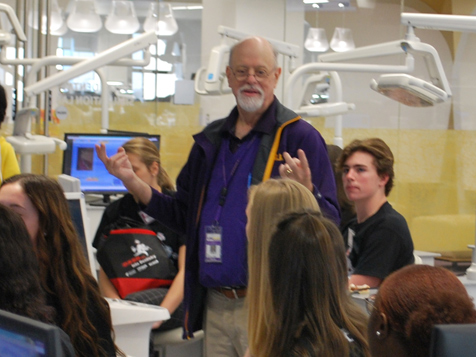 Dr. Giacona demonstrates digital technology to students during Dash...into Dentistry
Dash...into Dentistry is available to high school juniors and seniors who live in rural areas and show an interest in health care, are enrolled in honors/advanced science and math classes, and maintain a cumulative GPA of 2.5 or above. Participants represented 14 of the 17 parishes served by the Central LA AHEC, which strives to increase the number of primary health care professionals in these underserved areas.

Among the services offered by the AHEC are shadowing programs for high school students interested in various health care fields. Every fall the AHEC staff devotes 8-10 weeks visiting all high schools in the 17-parish service area to recruit students to apply for its programs. Students first learn about the programs through printed packets sent to the schools prior to the beginning of the school year.

Encouraged by the success of its initial event, the Central Louisiana AHEC staff plans to continue Dash...into Dentistry as an annual program, hoping to expand the number of interested students. According to Robin Cosenza, AHEC health careers coordinator, "The university provided a very enriching experience for our students and helped provide them with valuable information about the role of dentistry in healthcare. We look forward to partnering together for many years to come!"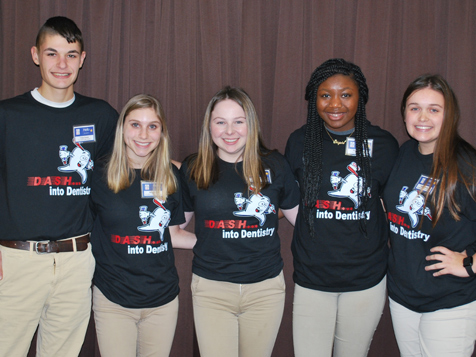 Dash...into Dentistry participants from high schools in central Louisiana
Pre-Dental 101: A Brush Up on Dentistry was held on Saturday, January 25. Numerous LSUSD students and faculty members gave up time on the weekend to participate. During this one-day event, college students learned about the application procedure (Dr. Cheramie), how to carve chalk (Drs. Ireland and Lallier), dental waxing (Mr. Aucoin and Mr. DiVincenti), and digital technology in dental restorations (Dr. Giacona). Drs. Ballard, Odom, Sahebi, and Sabey discussed specialties and career paths in dental fields. Students also had the opportunity to socialize, ask questions of a panel of dental school officers, and gain more information in a Q&A session with Dr. Toby Cheramie, who coordinates the annual event.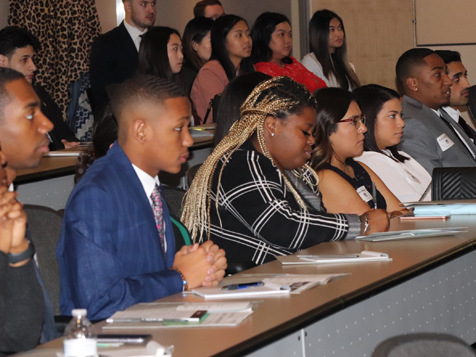 Students concentrate on a lecture during 2020 Pre-Dent 101
Pre-Dental 101, first held at LSUSD in 2011, was the idea of LSU pre-dental students Sabrina Portwood and Brent Benoit. After presenting their proposal to Dean Gremillion and Dr. John Ritchie, then admissions director, the students received approval to plan the one-day program with the assistance of dental school faculty and students. The first session included 175 pre-dental and pre-dental hygiene students. This year, close to 300 students attended the program.
This past year 900 applications were submitted for the 75 slots in the DDS program. Pre-Dent 101 helps students increase their knowledge of the dental fields, deepen their expectations of the demands of the curriculum, and better understand requirements for an effective application to their chosen program.