Advanced Education Highlights
As an integral part of the LSUHSC School of Dentistry (LSUSD), the seven advanced education programs contribute to the mission and goals of the school. Residents, fellows, and interns participate in teaching, research, and patient care.
Master of Science in Dentistry
Through the efforts of Eric Hovland, DDS, MEd, MBA, director of advanced education, LSUSD has received approval from the Louisiana Board of Regents to award the master of science in dentistry to graduates of five specialty programs. Beginning in the 2014-15 academic year, all graduates of the advanced education programs in endodontics, orthodontics, pediatric dentistry, periodontics, and prosthodontics will receive the degree.
LSUSD has two other advanced education programs, General Practice Residency (GPR) and Oral and Maxillofacial Surgery (OMS). Residents in the one-year GPR program will continue to receive certificates; OMS residents, in a six-year program, will continue to receive certificates as well as the doctor of medicine (MD).
The master of science in dentistry requires an original research project and a publishable manuscript based on the research. This research requirement will strengthen student and departmental research while offering more robust credentials for graduates who may be interested in an academic career. LSUSD will also be in a stronger position to attract its own graduates to faculty positions at the school.
Because LSUSD is one of only a few dental schools not currently offering the master's degree, the advanced education programs will now be more competitive in attracting well-qualified applicants. According to Dr. Hovland, "Graduates of specialty programs often stay in Louisiana to practice dentistry. The masters program will benefit the community as well as the dental school."
Research Day
Participation in research has always been a requirement for LSUSD residents. At the annual Research Day on May 16, co-sponsored by the Center of Excellence in Oral and Craniofacial Biology and the Office of Advanced Education, residents formally presented their research to fellow residents and faculty members. In addition to oral presentations, faculty members, staff, residents, and dental students displayed research posters that they had previously presented at the American Association of Dental Research in Charlotte, North Carolina, in March.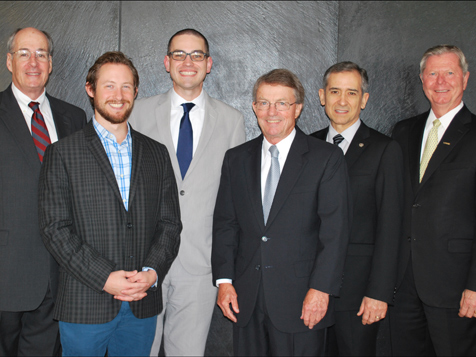 (l to r) Drs. Michael Maginnis; Trent Lally and Cameron Cavola, Advanced Education Committee student representatives; Eric Hovland; Arturo Mendez; Henry Gremillion, dean
Graduation
To culminate the years of postgraduate training, on June 20, 2014, LSUSD presented certificates to 32 residents, seven fellows, and three interns of the seven advanced education programs. Michael J. Maginnis, DDS, delivered the keynote address, "The New Adventure: The Rest of Your Life." Dr. Maginnis, a 1971 graduate of the Loyola School of Dentistry, completed the graduate prosthodontics program at the University of North Carolina in 1973 and is board-certified in removable prosthodontics.
Following the awarding of the certificates, Dr. Mairi Noverr, coordinator of postgraduate research, announced the winner of the Dr. Robert B. Brannon Research Award. The award recognizes the superior research project among those presented at Research Day on May 16. The recipient for 2014 is Jeremy Manuele, DMD, orthodontics. Jyoti Puri, BDS, periodontics, placed second and Christine Tran, DDS, pediatric dentistry, placed third.
Congratulations to all our advanced education graduates. Future graduates can look forward to the enhanced distinction of receiving a masters of science in dentistry.