Residents Gather for Grand Rounds
The biannual advanced education grand rounds are an opportunity for collaboration among residents in the various programs at LSUSD. Promoting interdisciplinary cooperation, grand rounds allow residents to recognize and appreciate challenges encountered by clinicians in the various specialty and residency programs.
The spring 2014 program, held on Friday, March 21, featured two guest speakers. Kenneth E. Rhea, MD, medical risk management consultant for LAMMICO, discussed "Mobile Medical Communications: Managing and Using Your Mobile Devices." Dale Ehrlich, DDS, chairman of the LSUSD Department of Comprehensive Dentistry and Biomaterials, spoke on "Behavioral Management for Orofacial Pain."
Presentations of challenging clinical cases by residents in each of the seven advanced education programs filled the remainder of the day. Following each presentation, a resident panel consisting of Drs. Theodoros Katsaros, Danny Gano, Jeremy Manuele, Ahmed Zahar, Psalmer Richmond, Cameron Cavola, and Jennifer Flanagan, addressed questions to the speakers.
Grand Rounds Presentations
Orthodontics "An Alternate Method for Prosthetic Replacement of Missing Lower Central Incisors" by Drs. Cara Weldon and Paige Whitt
Endodontics "A Team Approach to Endodontic Success" by Drs. David Buczack and Zack Ritter
Oral And Maxillofacial Surgery "Reconstruction of a Mandibular Continuity Defect with a Free Fibular Osteocutaneous Flap and Virtual Surgical Planning" by Dr. Garett Seeba
Prosthodontics "Ectodermal Dysplasia: Treatment" by Drs. Luisana Echandi and Letitia Lacour
General Practice Residency "What Happens When Your Airbag Doesn't Deploy: Management of the Severe Alveolar Fracture" by Drs. Briggs McKey and Anthony Elger
Periodontics "Comprehensive Treatment Planning: A Team Approach" by Dr. Theodora Kompotiati
Pediatric Dentistry "Sickle Cell Disease" by Dr. Bijal Naik
In addition, Dr. Eric Hovland, director of advanced education, presented an award of appreciation to Kristen Quigley, LAMMICO customer relations specialist, in recognition of the company's generous support of advanced education grand rounds. LAMMICO is a mutual insurance company providing medical professional liability products to health care providers and facilities.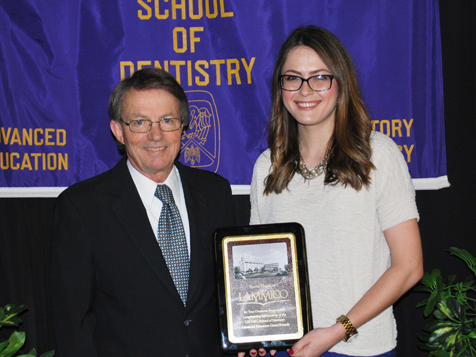 Dr. Eric Hovland presents appreciation award to LAMMICO's Kristen Quigley
Clayshoot Raises Funds for LSUSD
The 2014 Clay Pigeon Shoot, a student-initiated fundraising event, was held at Southern Shooting Center in Thibodaux, on February 15. The clay shoot, now in its eighth year, has generated over $40,000. This year's proceeds benefited the LSUSD Student Education Fund and the Student Government Association (SGA). SGA officers Colten Ducote and Matthew George organized the event.
The overall high shooter was Dr. Thomas Nash. His team, which included Dr. Philip Gastinel, Paul Gastinel and Bert Wintz, also came in first. The overall female shooter was Ms. Lisette Wands.
Special thanks to lead sponsors:
Platinum: Campus Federal Credit Union
Gold: Aesthetic Dentistry Group (Drs. Nick Rauber and Dan Bankhead) and Southern Endodontic Specialists (Drs. Steven Gaudet and Benjamin Ber)
Silver: Bridgepoint Financial, Delta Dental, Iron Horse Financial, and Weaver's Wildlife Arts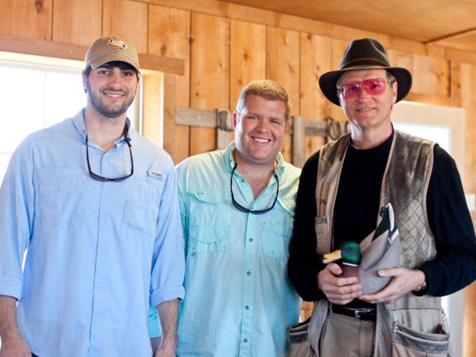 (l to r) Matthew George, Colten Ducote, and Dr. Thomas Nash