Advanced Education Graduation
On June 22, 2012, the 39th class of advanced education students graduated from the LSUHSC School of Dentistry. Twenty-seven certificates were awarded in the specialties of endodontics, oral and maxillofacial surgery, orthodontics, pediatric dentistry, periodontics, and prosthodontics. Sixteen additional certificates were awarded to residents who completed the General Practice Residency Program, which focuses on hospital-based dentistry and care of medically compromised patients. Seven of the certificates were awarded to fellows who completed one-year programs in oral and maxillofacial surgery and dental implants. Dr. Eric Hovland, director of the Office of Advanced Education, moderated the certificate-awarding ceremony.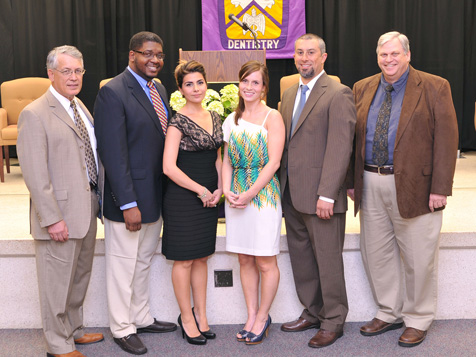 Endodontics department: Drs. Van Himel, head; Alan Simmons, Sara Macway, Chelsea Accardo, Rodney Isolani, Kent Sabey, program director
Dr. Ronald A. Bell, professor in pediatric dentistry and orthodontics at the College of Dental Medicine, Medical University of South Carolina, delivered the graduation address. His entertaining talk, "A Three Minute Record," cited lyrics of rock and roll tunes to remind the graduates of the importance of finding a balance between profession, family, and friends. A graduate of LSUSD programs in dentistry (1973) and pediatric dentistry (1978), Dr. Bell was named Alumnus of the Year in 2000.
During the ceremony, three residents received awards for their presentations at Research Day on April 27: first place, Ioannis Tsourounakis, periodontics; second place, Steven Black, endodontics (2011); third place, Sarah Macway, endodontics. Since 1974, LSUSD has awarded 1,046 certificates in advanced education programs.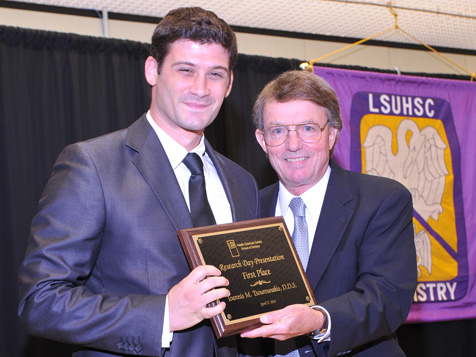 Dr. Hovland presents the first-place Research Award to Dr. Tsourounakis
2012 Graduates
Endodontics: Chelsea Accardo, DDS; Rodney Isolani, DDS; Sara Macway, DMD; Alan Simmons, DDS
General Practice Residency: Antwan Bates, DDS; Paul Beyt, DDS; Julia Cheuk, DDS; Rajat Diwan, DDS; Maderia Hatcher, DDS; Nina Jayakrishnan, DDS; Summer Ketron, DDS; Michael Maher, DDS; Patton Minkin, DDS; Sara Monrad, DDS; Ruby Nhan, DDS; Brennan O'Brien, DDS; Shemika Sample, DDS; Shahin Sultana, DDS; Marquita Wallace, DDS; Osyria Webster-Taylor, DDS
Oral and Maxillofacial Surgery: Alfredo Arribas, DDS; Christopher Bradley Dickerson, DDS, MD; Waheed Mohamed, DDS, MD; Kevin Fakheri, DDS (fellow); Billy Laun, II, DDS (fellow); Joseph Zeidan, DDS (fellow)
Orthodontics: John Andrews, Jr., DMD; Benjamin Foster, DDS; David Guidry, DDS; Son Nguyen, DDS
Pediatric Dentistry: Christopher Marc Jones, DMD; Christen Massey, DDS; Jordan Prieto, DDS; Michael Von Gruben, DDS
Periodontics: Samuel Reid Lester, DMD; Caesar Sweidan, BDS; Ioannis Tsourounakis, DDS; Thanh Xuan Bui Nguyen, DDS (fellow); David Wilson, DDS (fellow)
Prosthodontics: Arnau Aparicio, DDS, CDT; Todd Slogocki, DMD; Cramin Wiltz II, DMD, CDT; Elias Rivera, DDS, MS (fellow)