What's New in Advanced Education?

Resident Graduation
On June 23, LSUSD presented certificates to 32 residents in seven advanced education programs. Residents in the programs of endodontics, orthodontics, pediatric dentistry, periodontics, and prosthodontics also received a master's of dental sciences. In addition, six interns and fellows in the General Practice Residency, Oral and Maxillofacial Surgery, and Periodontics received certificates.
Denis "Chip" Simon, III, DDS, MS, delivered the graduation address, "ACES and the Challenges They Face". A 1976 graduate of LSUSD, Dr. Simon completed an endodontic residency at Wilford Hall USAF Medical Center in San Antonio and the University of Texas Health Sciences Center in Houston in 1980. In addition to his full-time practice limited to endodontics in Baton Rouge, he is part-time assistant professor in endodontics at the dental school. Active in national and local professional organizations, Dr. Simon was recognized as LSUSD Alumnus of the Year in 2005 and received the LDA Distinguished Service Award in 2009. In 2011 he was honored with the Coolidge Award, the highest honor bestowed by the American Association of Endodontists. He is a well-known lecturer, locally, nationally, and internationally.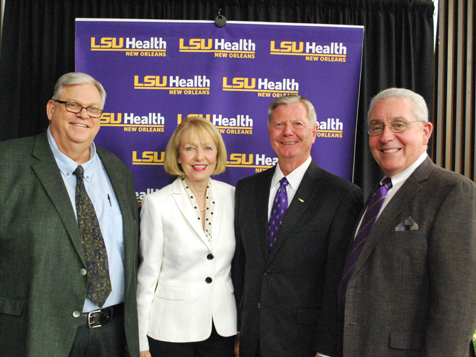 l-r, Dr. Kent Sabey, endodontics advanced education program director; Dr. Sandra Andrieu, director of advanced education; Dean Henry Gremillion; Dr. Chip Simon
Dr. Sandra Andrieu Directs Advanced Education
With the retirement of Dr. Eric Hovland in January, the functions of the office of advanced education are now under the umbrella of the LSUSD Department of Academic Affairs and Curriculum. Sandra Andrieu, PhD, professor and associate dean for academic affairs, will be working with department chairs to ensure a smooth transition. A graduate of the LSUSD program in dental hygiene, Dr. Andrieu received her PhD in education administration from the University of New Orleans in 1991. She has played an active role in the American Dental Education Association, having served as president in 2011-2012, as well as on numerous committees and governmental bodies. An early champion of interprofessional education at LSUHSC, she is currently a member of the Association of American Medical Colleges Interprofessional Collaborative Practice Education Panel. Dr. Andrieu has been instrumental in leading LSUSD through successful CODA and SACS accreditation processes. She is a member of the LSUHSC Threat Assessment Team and has been a member of numerous LSUSD committees.
Prosthodontics Resident Recognized for Posters
During both years of his advanced education program, Bashar Snober, DDS, MSD, who completed the LSUSD prosthodontic residency in June, received second place in the poster competition at the American Equilibration Society (AES) Scientific Meeting held in Chicago. In 2016 his winning poster was entitled "Gaining a Ferrule Effect Using a Simple Essix Retainer". His 2017 poster, "Fabricating an Implant Surgical Guide: A Different Approach", also won second place. AES is the leading organization of dental professionals advancing the science and clinical application of knowledge in occlusion, TMD, and comprehensive oral care. Dr. Shawky Mohamed, emeritus professor of prosthodontics, served as president in 2000.
A native of Amman, Jordan, Dr. Snober received his DDS from Jordan University in 2012. He served as chief prosthodontic resident during his studies at LSUSD.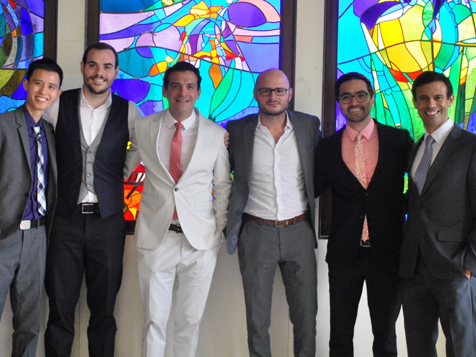 Prosthodontics graduates and faculty (l-r) Drs. Kevin Vu; Luis Alvarado; Marco Brindis, interim chair; Jonathan Esquivel; Bashar Snober; Luis Infante, advanced education program director