LSUSD to Receive Gies Award
IPE Programs Merit ADEA Award
The ADEAGies Foundation recently announced that LSUSD will be awarded the 2018 Gies Award for Vision-Academic Dental Institution. The award (the second Gies Award for LSUSD) will be presented at the American Dental Education Association Annual Session and Exhibition in Orlando, Florida, on March 19, 2018. The school is one of ten recipients of William J. Gies Awards for Vision, Innovation, and Achievement in 2018.
Named after William J. Gies, PhD, the awards honor individuals and organizations that exemplify the highest standards in oral health and dental education, research and leadership. Considered the "Father of Contemporary Dental Education and Research," Dr. Gies is known for his 1926 report, Dental Education in the United States and Canada, which transformed academic dentistry and oral health care and continues to be regarded as the most important critical review of dental education.
LSUSD will receive the Gies Award in recognition of its successful programs in Interprofessional Education (IPE) and Collaborative Practice. For the last six years, dental school faculty and administration have worked with colleagues at other LSUHSC schools to develop and expand IPE courses and opportunities for students. Sandra Andrieu, PhD, associate dean for academic affairs, initiated IPE at LSUHSC and served as the first chairperson of the LSUHSC Interprofessional Education Committee. The LSUHSC program has grown from one elective in 2012 to a new two-year longitudinal IPE experience for all first- and second-year students branded as "Team Up: Commit to Compassion, Collaboration and Communication."
In 2015 LSUHSC demonstrated its commitment to IPE through the development of a centralized office supporting all six schools. Under the leadership of its director, Tina Patel Gunaldo, PhD, DPT, MHS, the Center for Interprofessional Education and Collaborative Practice supports IPE in various learning environments, such as classroom, laboratory, high-fidelity simulation, as well as community and clinical settings. LSUSD Dean Henry Gremillion stated, "This tremendous honor is evidence of the team spirit and collaborative effort across all six schools in the LSU Health Sciences Center."
Jessica Owens, DMD, assistant professor of periodontics, recommended that the school be nominated for this prestigious award. She said, "Student understanding of the oral-systemic connection and their confidence in requesting and processing information from other health professionals has grown immensely in my tenure with them, and I have to credit the IPE curriculum for much of this improvement."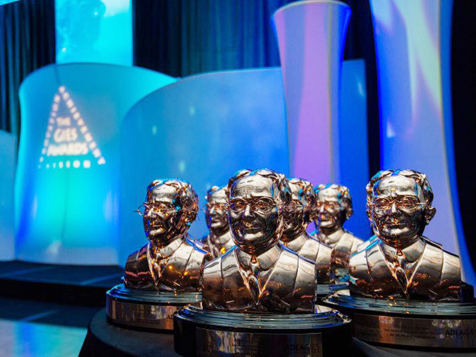 LSUSD will receive the 2018 ADEA Gies Award for Vision-Academic Dental Institution
ADEA Supports Dental Education
In addition to ADEA's support for dental education, exemplified by the Gies Awards, the association offers numerous services for students. To highlight these services, two members of the administrative staff of ADEA visited LSUSD this August as the first stop on a tour of dental schools. Virginia Bader, ADEA chief of staff, and Stephenie Brooks-Maynard, director of membership, spent the day at LSUSD, visiting with faculty, administrators, and students.
As the "Voice of Dental Education," ADEA is the sole national organization representing academic dentistry. Members include all 76 U.S. and Canadian dental schools, allied and advanced dental education programs, corporations working in oral health education, and students, faculty, staff, and administrators. Membership in ADEA for faculty and students is free.
Among the topics addressed by the two ADEA speakers were the organization's role in advocacy, faculty development and leadership, resources for students, and student recruitment. One particular focus of their presentation was the ADEA Chapter Toolkit for Students, Residents, and Fellows, which is designed to encourage students to pursue a career in dental education. The toolkit includes information and resources to guide chapter creation, organization, fundraising, community outreach, and events to introduce students, residents and fellows to academic dental careers.
ADEA also offers scholarships for dental, dental hygiene, and dental laboratory technology students who demonstrate a commitment to becoming educators in the dental professions. To view information about these scholarships and other ADEA student awards, go to www.adea.org/awards.
As members of ADEA, students can take advantage of resources and services promoting academic excellence, professional growth, and career development.