Honor Societies Induct New Members
Two LSUSD honor societies, Omicron Kappa Upsilon (OKU) and the C. Edmund Kells Honor Society, held their annual joint convocation banquet on April 10, 2013, to induct new faculty and student members and to award scholarships to deserving students.

OKU, a national dental honor society created in 1914 at Northwestern University Dental School, promotes and recognizes scholarship and character among dental students. Theta Kappa, established in 1971, is the LSUSD component chapter. The 2013 officers are Dr. Laurie Moeller, president; Dr. Richard Ballard, president-elect; Dr. Toula Palaiogolou, vice-president; Dr. J Hochstedler, secretary-treasurer; and Dr. John Ritchie, past-president.
Each year the OKU chapter elects 12% of the senior class to alumni membership. New alumni members from the Class of 2013 are Katie Evans, Khanh Luong, Kristen Knecht Kiebach, Christy Lottinger, Nickolas Maskas, Nicole Russo, Erica Simon, and Justin Stanford.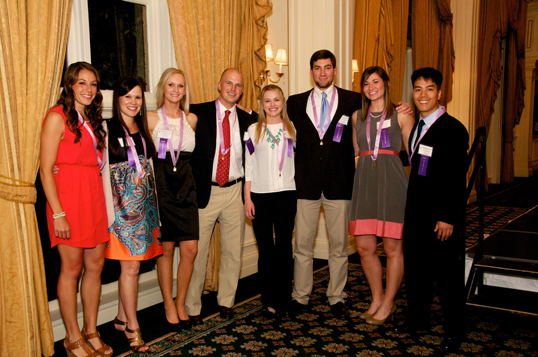 New OKU alumni members, from left, Drs. Russo, Simon, Knecht Kiebach, Stanford, Lottinger, Maskas, Evans, and Luong.
Dr. Phillip Carruth, clinical associate professor of prosthodontics, and Caroline Mason, professor and director of the program in dental hygiene, were inducted into OKU as faculty member and honorary member, respectively.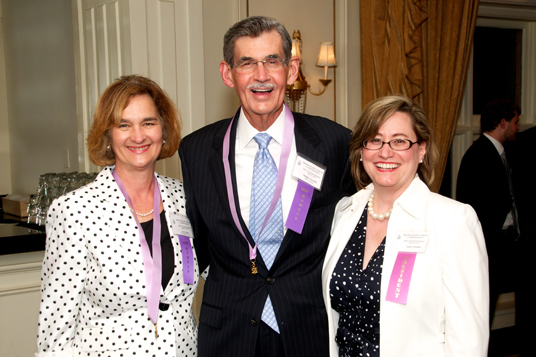 OKU President Dr. Moeller (right) with new members Ms. Mason and Dr. Carruth
Third-year dental student Matthew Davis received the Kramer Award of Excellence, sponsored by the OKU Supreme Chapter. Two scholarships sponsored by Theta Kappa are presented to fourth-year students. The recipient of the Randolph Malloy/OKU Scholarship for Academic Excellence was Katie Evans. Nickolas Maskas received the Robert Brannon/OKU Scholarship for Academic Excellence, which was presented for the first time.
The C. Edmund Kells Society is a local honor society created at LSUSD in 1971. Dr. Kells, New Orleans' most famous dentist, was the first U.S. dentist to take intraoral radiographs on a living person. Current Kells Society officers are Matthew Davis, president; Rebecca Day, vice-president; and Caroline Sikes, secretary/treasurer. Dr. Paul Armbruster serves as faculty advisor.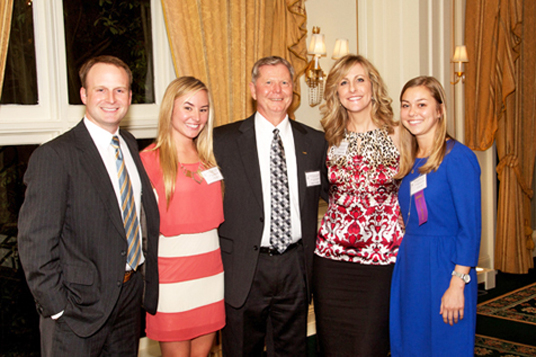 Kells Society officers, from left, Matthew Davis, Rebecca Day and far right, Caroline Sikes with new honorary faculty members, center, Drs. Gremillion and Cordell
New members of the Kells Society who were honored at the banquet are Stephanie Babin, Ashley Keen, Christianna Moore, and Erica Simon, seniors; Celeste Block, Rebecca Day, and John Moylan, juniors; and Kathleen Adley, Ariel Brown, Ryan Buller, Sarah George, Matthew Leftwich, Caroline Sikes, Christy Stasney, and Jefferson (Tyler) Twomley, sophomores.

Selected as honorary faculty members of the Kells Society were Dean Henry Gremillion and Dr. Kitrina Cordell, associate professor of oral and maxillofacial pathology. Junior students Matthew Davis and Colten Ducote received the C. Edmund Kells Society Student Scholar Award. Recipients of these scholarships are regarded by their Kells classmates as exceptional student dentists and individuals.

"The OKU-Kells joint convocation is an excellent opportunity to recognize our top-achieving students," said Dr. Moeller. "We are always pleased to welcome new faculty and student members into our honor societies."