Our History
Dental education has a long history in Louisiana, dating as far back as 1861, with the establishment of the New Orleans Dental College (1861-1877), followed by the New Orleans College of Dentistry (1899-1909), and dental schools at Tulane (1909-1928) and Loyola (1914-1971)
When Loyola could not afford to continue its dental program, the Louisiana Legislature authorized the building of a dental school as part of the LSU System. Over the span of four years, operations at Loyola were transferred to the new LSU School of Dentistry. The last class of Loyola dentists graduated in 1971. The first class of 27 LSUSD dentists graduated on June 3, 1972.
Since that first graduation, over 5,000 dentists, hygienists and lab technicians have been educated here. Today, this means that 75% of the dental health care workers in Louisiana have been trained at LSUSD. We are very proud of every one of our graduates.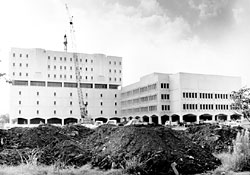 The school is located on a 22-acre tract of land near City Park that was acquired from the federal government. The 30 barracks on the site at that time were used during World War II as housing for the Navy.
In order to construct a permanent physical plant for the school, a grant was obtained from the United States Department of Health, Education and Welfare. The 344,000 square foot project cost $15,500,000 to build. Of this total, $10,500,000 came from the federal government and $5,000,000 came from the State of Louisiana. It was arguably the best bargain the State of Louisiana ever received in a building. Formal dedication of the new school took place on Friday, February 18, 1972.
The flooding that followed Hurricane Katrina caused the school to relocate to the South Campus of LSU in Baton Rouge. Tapping into 40 years of goodwill among the alumni, a network of 182 dentists, oral surgeons and dental hygienists in the community agreed to supplement the clinical training of our fourth-year students and residents. Since we returned to our New Orleans campus in August 2007, we have maintained a clinic in Baton Rouge for general practice residents.
Dr. Henry Gremillion, LSUSD '77, became dean in October 2008. Our previous deans were:
Edmund Engler Jeansonne, DDS (1966-1974)
Allen Anthony Copping, DDS (1974)
Edmund Engler Jeansonne, DDS (1974-1976)
Jack Henry Rayson, DDS (1976-1993)
Eric J. Hovland, DDS, MEd, MBA (1993 to 2008)
Drs. Rayson, Jeansonne and Copping are deceased.