Department of Oral & Maxillofacial Surgery
Daniel Spagnoli, DDS, MS, PhD
Head
Department of Oral & Maxillofacial Surgery
Associate Professor

LSUHSC School of Dentistry
Department of Oral & Maxillofacial Surgery
Box 220
1100 Florida Avenue
New Orleans, LA 70119
Phone: 504-941-8216
Email: dspagn@lsuhsc.edu
The Department of Oral and Maxillofacial Surgery (OMS) residency program offers a certificate and a Doctor of Medicine degree and accepts 3 to 4 applicants annually for its six-year program. The Medical Center of Louisiana's two hospitals in New Orleans serve as the primary teaching hospitals. Other affiliated institutions are Earl K. Long Memorial Hospital in Baton Rouge, Carolinas Healthcare System in Charlotte, NC, Doctor's Hospital in Metairie, and the Louisiana State University Schools of Dentistry and Medicine.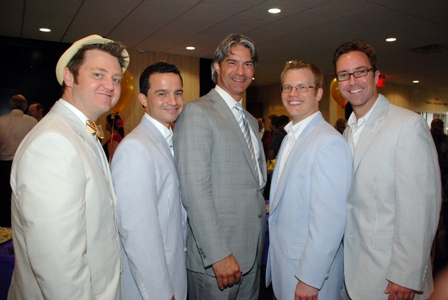 Dr. Jon Perenack, center, directory of the residency program, with 2011 graduates, from left, Drs. Vernon Burke, Frankie Gomez, Christopher Steen, David Bulot
Currently funded research involves both clinical trials and basic science research. Clinical trials include immediate restoration of implants, single-tooth implant restorations, and the use of different bone regenerative materials, including recombinant proteins. Basic science research involves skin regeneration, bone regeneration using a variety of inductive proteins and growth factors, distraction osteogenesis, the use of biomaterials for cosmetic augmentation of the facial skeleton, and the use of guided bone regeneration to repair defects in the jaw. OMS faculty also lecture and engage in collaborative clinical and basic science research projects with other specialty departments.
The OMS undergraduate training program prepares dental and dental hygiene students in the practice of oral surgery. In addition to didactic and clinical courses, OMS faculty participate in patient consultations in the predoctoral student clinics. Predoctoral junior and senior students also have the opportunity to participate in two-week externships at the Medical Center of Louisiana hospital, and senior students are offered the opportunity to participate in a two-week elective in the OMS clinic at the dental school and its affiliate hospitals.
An OMS resident is always available in the oral surgery clinic to do more advanced surgeries under intravenous sedation where predoctoral students are allowed to observe and assist. In addition, predoctoral students in all four years also have the opportunity to participate in research projects with OMS residents and faculty.
View rosters of full-time, part-time, and gratis faculty members in the Department of Oral and Maxillofacial Surgery.