Dental Honor Societies Induct New Members
On Thursday, April 7, 2011, two LSUHSC School of Dentistry honor societies, Omicron Kappa Upsilon (OKU) and the C. Edmund Kells Honor Society, held a joint annual convocation banquet to induct new members.

OKU is a national dental honor society created in 1914 "...to promote and recognize scholarship and character among students of dentistry..." Every U.S. dental school has a chapter; Theta Kappa, established in 1971, is the LSUSD chapter. The 2011 officers are Dr. Toby Cheramie, president; Dr. John Ritchie, president-elect; Dr. Laurie Moeller, vice-president; Dr. J Hochstedler, secretary-treasurer; and Dr. Tetsuo Nakamoto, past-president.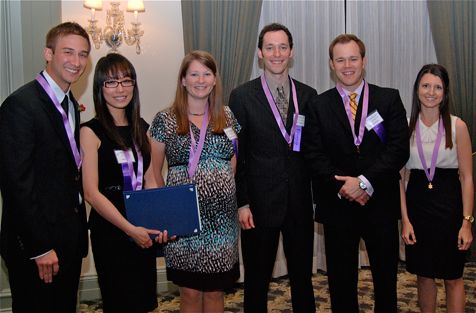 New OKU alumni members, Class of 2011
The new OKU alumni members, pictured above, are (from left) Scott Hannaman, Ruby Nhan, Ashley Lestrade, Jeffrey Bennett, Joshua Parker, and Erin Maturin. Dr. Janice Townsend, interim chairman of the Department of Pediatric Dentistry, was inducted into OKU as a faculty member in recognition of her contribution to dentistry. Dr. Eric Hovland became a life member.

Honor students from other dental classes invited to the OKU banquet were Rebecca Day, Jacob Deniakos, Katie Evans, Kristen Knecht, Christy Lottinger, Nickolas Maskas, Justin Stanford, Alexis Nacchio, and Nicole Thieler.

Alexis Nacchio, third-year student, received the Dr. William S. Kramer Award of Excellence, which is sponsored by the OKU Supreme Chapter. The Randolph Malloy/OKU Scholarship for Academic Excellence was presented to two senior students, Ruby Nhan and Joshua Parker.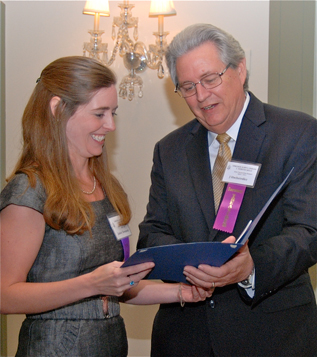 Dr. J Hochstedler right, presents Dr. Janice Townsend
with her OKU faculty member certificate.
The C. Edmund Kells Society, a local honor society created at LSUSD, is named for New Orleans' most famous dentist. Dr. Kells is known as the first U.S. dentist to take intraoral radiographs on a living person. A productive inventor credited with over 30 patents, he was also a prolific contributor to the dental literature.

The C. Edmund Kells Society is composed of students who excel academically throughout their dental school career. The top 10% of sophomores, 15% of juniors, and 20% of seniors are inducted each year. The current officers are Joshua Brandner, president; Cole Johnson, vice-president; and Nickolas Maskas, secretary/treasurer. Dr. Paul Armbruster is faculty advisor.

Fourth-year students in the Kells Society are Emmanuel Enime, Jared Harris, Michael Maher, Erin Maturin, Ruby Nhan, Joshua Parker, Jeffrey Bennett, Scott Hannaman, and Eric Hebert. New members of the Kells Society who were inducted at the banquet appear in the photo below. Front row: Katie Evans, Nicole Russo; second row: Christy Lottinger, Kristen Knecht, Ashley Lestrade, Angelle Trahan, Elise Puissegur, Haley Bui; back row: Nickolas Maskas, Joseph Huff, Justin Stanford. Not pictured is Merrell Irby.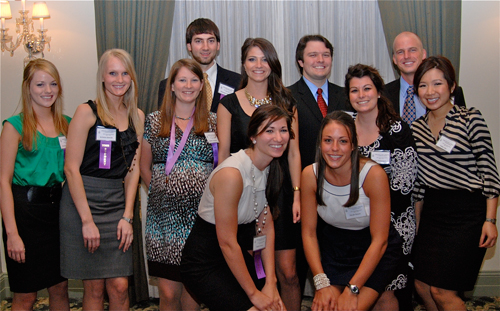 New 2011 Kells Society Members
Each year members of the student-led society select a faculty member whom they believe best represents the values and dedication to dentistry embodied by Dr. Kells. The 2011 Kells Society honorary faculty member is Dr. Janice Townsend.

We congratulate the new LSUSD student and faculty members of Omicron Kappa Upsilon and the C. Edmund Kells Society, who exemplify academic and professional excellence in dentistry.