40 Years of Postgraduate Education
Since its inception, the LSU School of Dentistry has been fully committed to advanced education. In 1971, even while the clinic and administration buildings were under construction, programs in oral pathology and orthodontics were established. Over the next five years, programs were added in general dentistry, pediatric dentistry, periodontics, prosthodontics and endodontics. The program in oral surgery was established at Charity Hospital in the 1920s. The first certificates were awarded in 1974, and since that time a total of 1,004 certificates have been awarded.
At the 2011 commencement, 29 certificates were awarded in the specialties of endodontics, oral and maxillofacial surgery, orthodontics, pediatric dentistry, periodontics, and prosthodontics. Nine additional certificates were awarded to residents who completed the General Practice Residency Program, which focuses on hospital-based dentistry for medically compromised patients.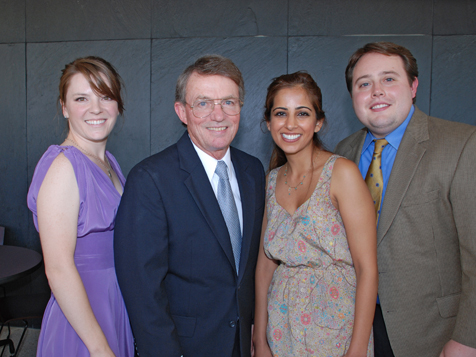 Dr. Eric Hovland, director of the Advanced Education Program, second from left, with the winners of the GlaxoSmithKline Research Awards. From left, Dr. Quin Mitchell, BDS, Endodontics; Dr. Manmeet Bala, DDS, Periodontics; and Dr. Matthew Milner, DMD, Prosthodontics.
Grand Rounds
A recent initiative is the Advanced Education Grand Rounds, founded under the direction of Dr. Eric Hovland in 2009. The program provides the opportunity for residents in the seven specialties to experience an interdisciplinary approach to patient treatment. The residents present cases that involve activities of multiple specialties and advanced general dentistry. After the presentations, the questions and discussions of faculty and residents stimulate different and shared approaches to patient treatment. Grand Rounds Day provides an added opportunity for the residents to interact with colleagues in other programs in both academic and social settings. Funding for the program is provided by LAMMICO.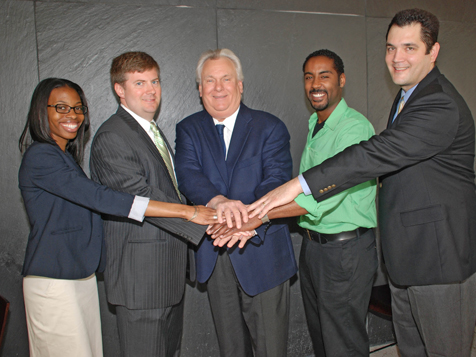 All for education. Dr. Thomas Grimstad, CEO of LAMMICO, center,
with advanced education students, from left, Drs. Marquita Wallace, Reid Lester, Joseph Braud and Alfredo Arribas at the 2011 Grand Rounds Day.
Graduates
The 2011 graduates of the LSUSD advanced education programs are:
Endodontics: Andrew Abide, Jr., DMD; Joseph Braud, Jr., MSPH, DDS; and Quinn Mitchell, BDS
General Practice Residency: Vera Dooley, DDS; Mariam Hanna, DDS; Ashla Martin, DDS; Lauren Santarufo, DMD; Casey Bargas, DDS; Shahin Chowdhury, BDS; Breah Burkhalter, DDS; Lynda Harhad, DDS; and Veronica Trotter, DDS.
Oral and Maxillofacial Surgery: David Bulot, DDS, MD; Frankie Gomez, DMD, MD; Christopher Steen, DDS, MD; and Vernon Burke, DMD, MD.
Also in Oral and Maxillofacial Surgery, a one-year internship was completed by Sami Nizam, II, DMD; Aaron Brinster, DDS; Hisham Hatoum, DDS; John Nesiba, DDS; Krista Roquette, DDS; and Shahrouz Zarrabi, DDS.
Orthodontics: Michael King, DMD; Jacob Koch, DDS; Mohni Shah, DMD; and Lydia Toso, DDS.
Pediatric Dentistry: Andrew Heaton, DDS; Sarah Khani, DDS; Nicole Staman, DMD; and Elizabeth Thorson DDS.
Periodontics: Manmeet Bala, DDS; Luis Moncada, DMD; and Mir Islam, BDS (fellow).
Prosthodontics: Darren Norby, DMD; Matthew Milner, DMD; Athena Vu, DDS, CDT; Alejandro Jimenez, DDS (fellow); and Joaquin Berron, DDS (fellow).