Heart to Heart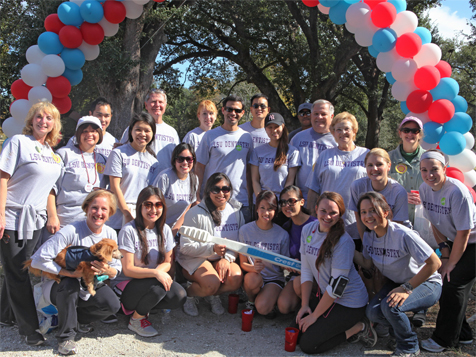 LSU School of Dentistry team at the course finish line
An enthusiastic team of 30 students, faculty and staff from LSUSD joined 5,000 walkers from throughout the New Orleans area on November 19 for the annual Heart Walk sponsored by the American Heart Association. The purpose of the event, a non-competitive walk around Audubon Park, is to raise awareness and funding for heart disease education and research.
Heart disease is the number one killer of men and women in the United States, responsible for one out of every four deaths. Numerous research studies have shown a connection between heart disease and key bacteria in periodontal disease. Dentists and dental hygienists are instrumental in identifying the presence and extent of the periodontal infection, and work with patients to treat existing periodontal problems and prevent future complications.
"The Heart Walk provided a wonderful opportunity for the LSUSD family to come together in support of an important program," said Dean Henry Gremillion. "The spirit and generosity of our group brightened up an already beautiful day. It is readily apparent that we, the School of Dentistry, are an important part of the fabric of New Orleans."
This year's walk generated $451,450, which is then matched dollar-for-dollar by the national American Heart Association. All of the money is dedicated to local research and education projects. Participants at LSUSD raised $1,369, surpassing the goal of $1,000.
"Heart disease impacts everyone," said Dr. Gremillion. "It's satisfying to know that our dental school team played a role in generating more than $900,000 for research and education that benefits our community.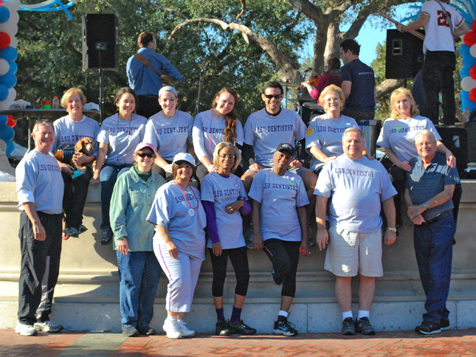 Pre-walk group shot: (standing, from left) Dean Gremillion, Terry Durel, Brenda Nolan, Donna Myers, Tracey Daniels Kelly, John Hodges, Dr. G. Tal Farrar; (seated, from left) Mackey Gremillion with Max, Kathlene Zuniga, Sabrina Portwood, Brittaney Burke, Luis Infante, Elsa Hodges and team coordinator Suzanne Farrar