Day of Healthy Smiles and Lifestyles
The LSUSD Department of Pediatric Dentistry, in cooperation with the New Orleans Dental Association and the New Orleans Saints, hosted 100 children at the 2013 Give Kids A Smile Day (GKAS) on Friday, January 18. Second- through fifth-grade students from Phoenix School in Plaquemines Parish and Lake Pontchartrain Elementary School in St. John the Baptist Parish traveled to the school to participate. The outreach was focused on schools in communities affected by Hurricane Isaac.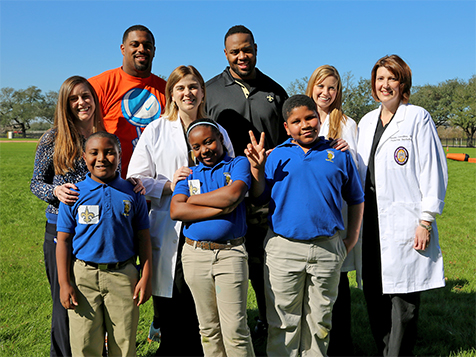 Saints players Cameron Jordan and Akeim Hicks on the sports field with school children (blue shirts) and (from left) Drs. Townsend, Axelrad, Boxberger and Cavallino
Co-chaired by pediatric dentists Drs. Kellie Axelrad and Nicole Boxberger, "Healthy Smiles, Healthy Lifestyles," was focused on raising awareness of two major health threats for children---poor oral health and obesity. Dental hygiene students and faculty members demonstrated proper oral hygiene, mouthguards for prevention of sports-related injuries and the effects of sugary drinks. Dental students, residents and faculty members provided dental examinations, cleanings and a sheet detailing their dental needs to take home to their parents.

New Orleans Saints players Akeim Hicks and Cameron Jordan and mascots Gumbo and Sir Saint emphasized physical activity at NFL Play 60 football drills held in the athletic field at the school. Following the activities, students were treated to a healthful lunch. "All of the children had a great time," said Dr. Janice Townsend, chair of the Department of Pediatric Dentistry. "I hope we've helped them understand the importance of taking care of their teeth and bodies."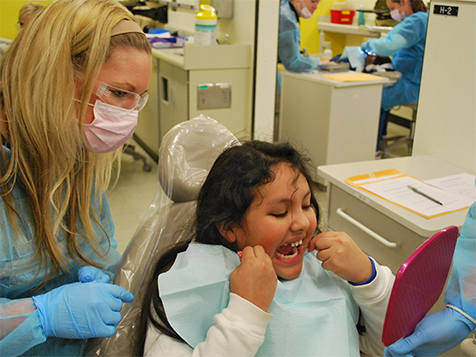 Second-year dental hygiene student Tara Thomas shows Dulce the correct way to floss.
Give Kids A Smile Day was started as a national event by the American Dental Association in 2003. Dentists and other team members volunteer their time and services to provide screenings, treatments and education to children throughout the United States. Traditionally held the first Friday of February, the LSU School of Dentistry held GKAS Day earlier to avoid a conflict with Super Bowl weekend in New Orleans.

Four more outreach events were planned in conjunction with GKAS Day to teach the importance of healthy smiles and lifestyles. Dr. Townsend, students and residents visited Women, Infants and Children recipients at the New Orleans Health Department. Members of the American Association of Pediatric Dentistry Student Chapter and the LSUSD Making Impressions group educated participants of the Urban League School Exposition at the Mercedes Benz Superdome. Students and residents also joined Drs. Nicole Boxberger and Pamela Shaw in two separate outreach events at the Children's Museum and at Children's Hospital.
---
Alumnus Ronald Marks Receives Hall of Distinction Award

Dr. Ronald (Ronnie) B. Marks, LSU '64, and 1973 graduate of the LSU-Charity Hospital Oral Surgery program, has been selected for induction into the 2013 LSU Alumni Association Hall of Distinction, which honors individuals who have "brought credit and distinction to themselves and to the university." Dr. Marks, who practices in Alexandria, received his DDS from Loyola in 1970. He is clinical professor of oral and maxillofacial surgery (OMS) at LSU Health in Shreveport and visiting associate professor of OMS at LSUSD.
A diplomate of the American Board of Oral and Maxillofacial Surgery, he has served as president the Louisiana Dental Association, the Louisiana State Board of Dentistry and the American Association of Oral and Maxillofacial Surgery. He is a 1999 recipient of the LDA Distinguished Service Award.

Dr. Marks, one of seven alumni selected from over 100 nominations, will be inducted on April 12, 2013.