Advanced Education's Grand Event
Twice a year, the LSUSD advanced education and residency programs come together to create a day-long program of case presentations. Entitled "Grand Rounds," these presentations emulate hospital-based medical grand rounds, which enhance residents' clinical reasoning skills through discussions of challenging patient cases. The program also promotes clinical and academic collaboration among residents in the various departments.
The fall 2013 program, held on September 13, featured a keynote address by Dr. Gerard Chiche on interdisciplinary esthetics. Dr. Chiche, LSUHSC emeritus professor and previous chair of the LSUSD Department of Prosthodontics, is currently director of the Center for Implant and Esthetic Dentistry at Georgia Regents University College of Dental Medicine.
Dr. Chiche's address was followed by 20-minute presentations from each of the seven advanced education programs. All presentations covered information of clinical significance for dental practitioners in all specialties.
Grand Rounds Presentations

• PEDIATRIC DENTISTRY "Behavior Management: Techniques in Managing the Pediatric Patient" by Drs. Amrit Bala and Katie McClendon
• PROSTHODONTICS "Dental Implants in Edentulous Maxilla" by Dr. Jose Viquez
• PERIODONTICS "Periodontal Therapy: The Multidisciplinary Approach" by Dr. Jyoti Puri
• GENERAL PRACTICE RESIDENCY "Dental Treatment of Medically Compromised Patients in
the Hospital Setting" by Dr. Matthew Bagnall
• ENDODONTICS "Detection and Treatment of Longitudinal Tooth Fractures" by Dr. Charles Ratcliff
• ORAL AND MAXILLOFACIAL SURGERY "Surgical Rehabilitation of the Partially and Completely Edentulous Maxilla" by Dr. Tuan Hoang
• ORTHODONTICS "Orthodontic Teatment with a Non-Traditional Extraction Pattern" by Drs. Mariam Haroun and Jeremy Manuele
Following each presentation, a panel that included one resident from each program addressed questions to the presenters. Members of the panel were Drs. David Buczak, Cameron Cavola, Anthony Elger, Ryan May, Ruby Nhan, Boris Stein, and Christine Tran.
Resident panel members (l to r) Drs. Elger, Tran, Buczak, Lally, Cavola, Nhan, May, and Stein
The interdisciplinary grand rounds program for residents was the idea of Dr. Randy Malloy, director of advanced education from 2007 until his untimely death in 2008. In 2009 the Advanced Education Committee and the Office of Advanced Education developed and implemented the program. The resident representatives on the committee are responsible for planning the program. "It is a wonderful feeling to see Dr. Malloy's vision of an advanced education interdisciplinary program with all the residents participating, reach such success," remarked Dr. Eric Hovland, current director of advanced education.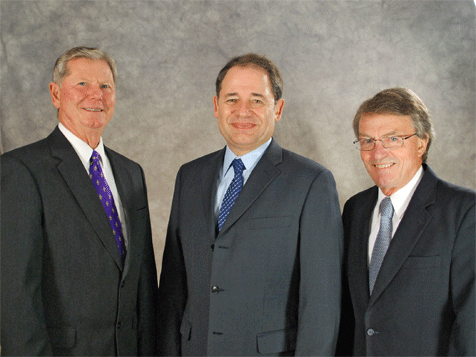 (l to r) Dean Gremillion with keynote speaker Dr. Chiche and Dr. Hovland
Special thanks to LAMMICO, for its generous sponsorship each year of the two grand rounds.